2019-2020 Season: Generations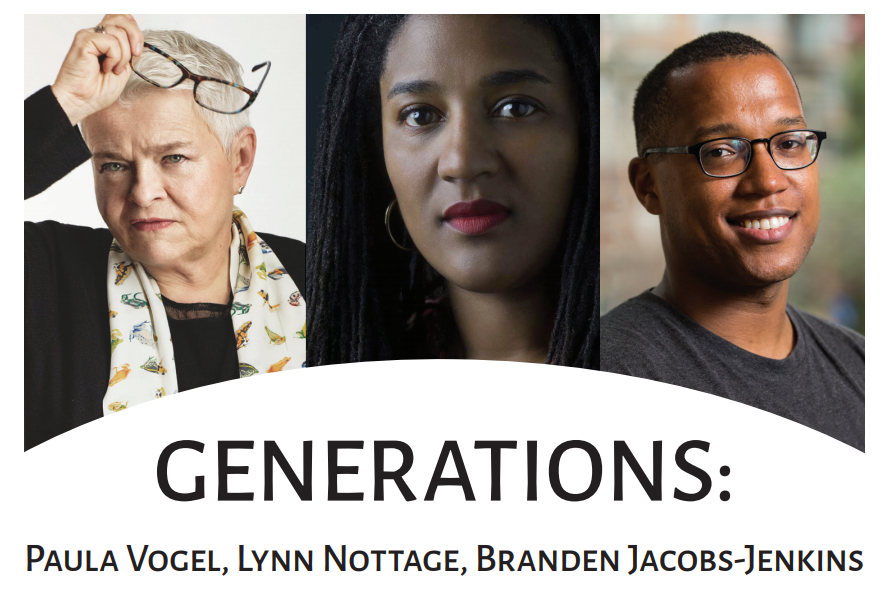 ---
Passing the Torch: a farewell message from Lisa Kron!
Lisa Kron sends a personal message to the Profile Theatre community expressing her gratitude for her time with us and her excitement for the year ahead!
"I am so excited to be passing the torch on to three playwrights who are friends of mine…and whose plays really mean a lot. […] All of these plays are plays I have seen more than once, because they are that good!" she says.
So listen to mother Lisa, and subscribe to Profile's 2019-2020 season to get the best seats, your preferred dates, and inside access to three incredible writers!
---

LEARN MORE ABOUT THE PLAYWRIGHTS HERE
"I have loved all three of these playwrights for some time. Paula Vogel helped shape my theatrical aesthetic; Lynn Nottage opened my heart with her fierce portraits; Branden Jacobs-Jenkins continues to explode my sense of what plays can look like and speak to. I'm thrilled to share their work with a Portland audience in an extended two-year artistic conversation." — Josh Hecht, Artistic Director

By Paula Vogel
October 17 – November 3, 2019 at IMAGO THEATRE
DETAILS



By Lynn Nottage
January 16 – February 2, 2020 at IMAGO THEATRE
DETAILS



By Paula Vogel
February 18 – March 12, 2020 at PSU: LINCOLN HALL
A co-production with Artists Repertory Theatre, in association with Portland State University
DETAILS



By Lynn Nottage
May 28 – June 21, 2020 at PORTLAND PLAYHOUSE
DETAILS


Concert Stagings

December 5th – 8th, 2019
DETAILS



April 30th – May 3rd, 2020
DETAILS