BRANDEN JACOBS-JENKINS IN CONVERSATION
Unfortunately, our Playwright Residency with Branden Jacobs-Jenkins was cancelled due to COVID-19.
Playwright and MacArthur Genius Award-winner, Branden Jacobs-Jenkins is traveling to Portland for a week-long residency!
You know him as the provocative, form-defying writer of AN OCTOROON and EVERYBODY. During his week he'll immerse himself in research and writing a new project. He will also teach a private workshop for our Community Profile participants.
BRANDEN JACOBS-JENKINS IN CONVERSATION
Sunday, June 7 at 11am
The Armory (128 NW 11th Ave.)
Branden's week in residency culminates in a public conversation event!
Tickets go on sale starting April 15.

Join us for a vibrant conversation with featured playwright, Branden Jacobs-Jenkins facilitated by Artistic Director, Josh Hecht. You'll get to know this playwright as he shares insight into his creative career. Catered reception and script signing to follow!

MORE ABOUT BRANDEN JACOBS-JENKINS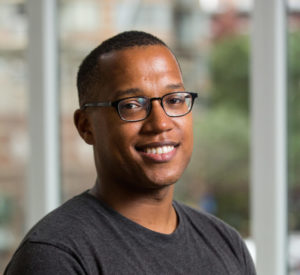 Explore this rising star's most sophisticated and subtle works with plays like Pulitzer finalist GLORIA and the widely-produced APPROPRIATE. A recipient of a MacArthur "Genius" Award — and of the Paula Vogel Playwriting Award administered by the Vineyard Theatre — this visionary artist will help us explore America's complex legacy in startlingly fresh new ways.