Satellite: Beyond the Page

Artist profiles, concerts, lectures and feature stories from our In Dialogue programming to help you go in depth into the questions and topics raised by our audio plays.
---
Episode 17: Orbiting How to Make An American Son, Pt. 3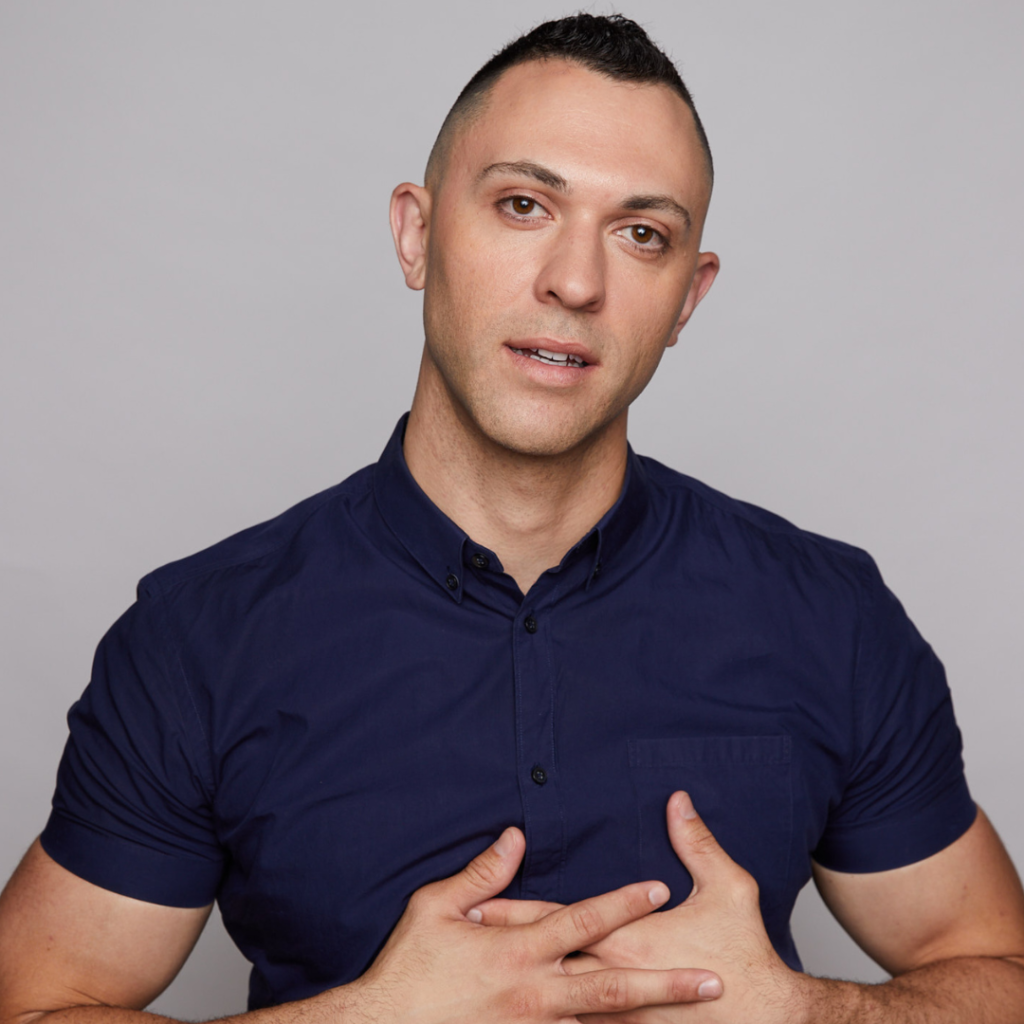 In part 3 of this series orbiting How to Make An American Son, New York based director Ben Villegas Randle shares the parallels between the play, chris peña's story, and his own, as well as his process for understanding the world of the play through concrete visual metaphor. This episode makes reference to negative stereotypes and attitudes towards Latiné immigrants, including those that exist within the Latiné community.
---
Episode 16: Orbiting How to Make An American Son, Pt. 2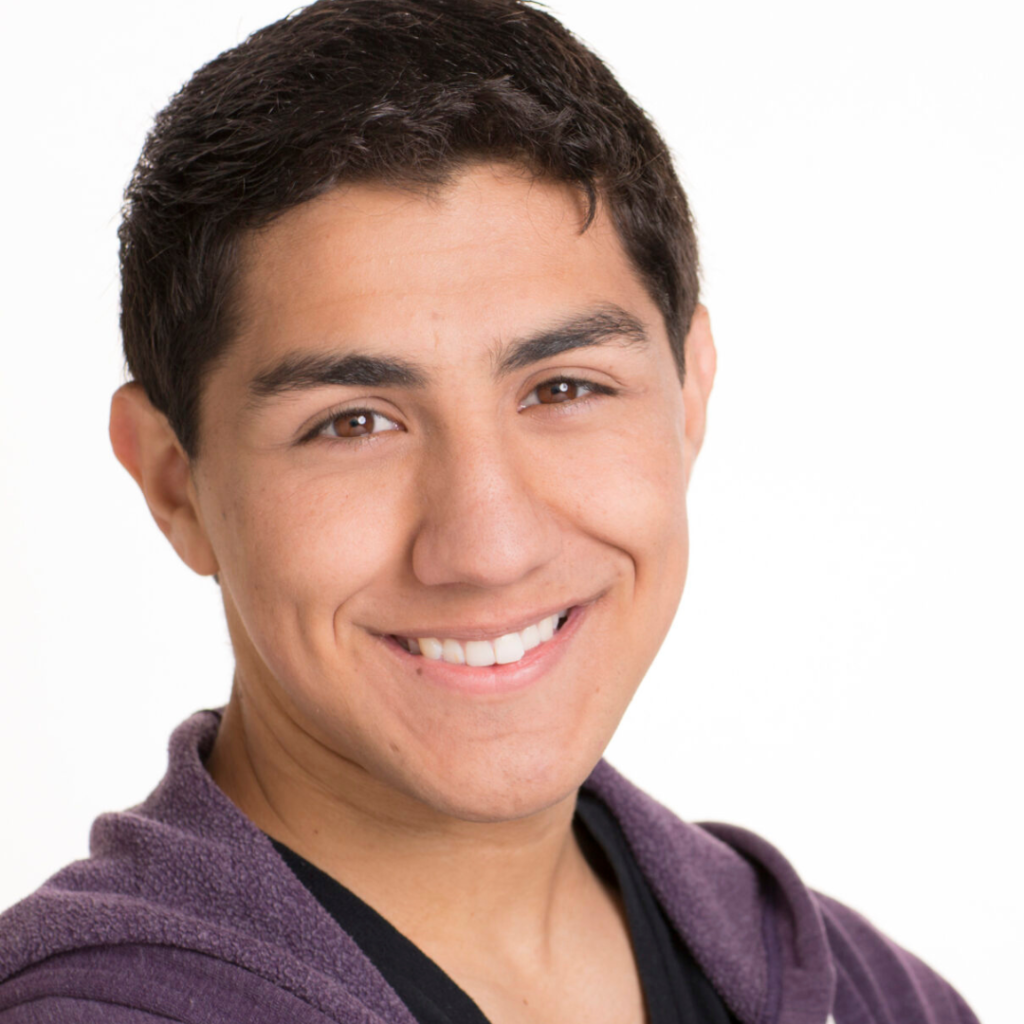 In part 2 of this three-part series orbiting How to Make An American Son, we chat with actor Matthew Sepeda, who plays the lead character Orlando in this production. Sepeda draws connections between his character and his own upbringing, and describes his experience portraying playwright christopher oscar peña as a teenager.
How to Make An American Son runs June 8 – June 25, 2023 at Imago Theatre.
---
Episode 15: Orbiting How to Make An American Son, Pt. 1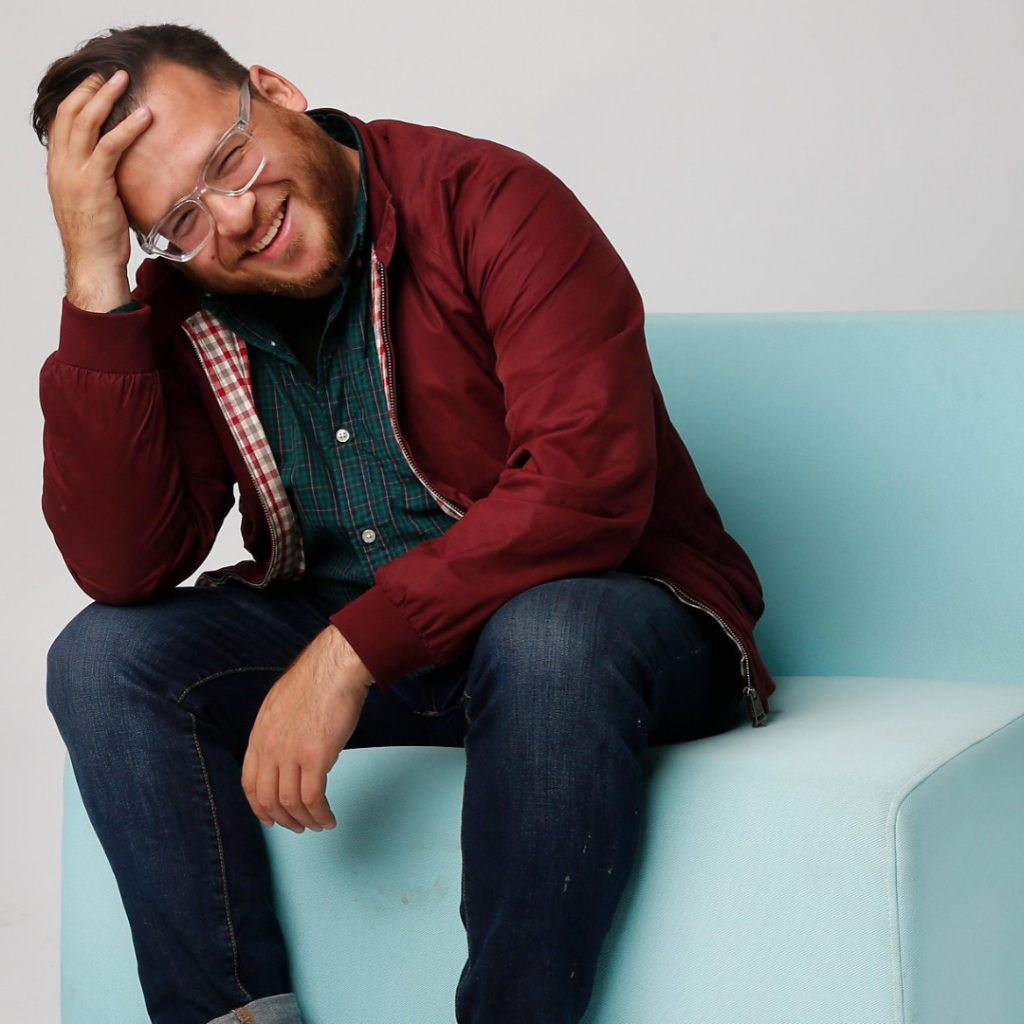 We kick off our 3-part series orbiting How to Make an American Son with playwright christopher oscar peña. In April, peña came to Portland to workshop his newest play, Our Orange Sky. Prior to his visit, Director of Community Engagement Tamara Carroll talked to him about what peña refers to as the "alternate metaverse version of my plays, where they are a fictitious but also factual take on me and my family." Peña discusses the real life story that inspired American Son, the variables of power and privilege, and why he calls the play "a love letter to my father."
How to Make An American Son runs June 8 – June 25, 2023 at Imago Theatre.
---
Episode 14: Orbiting the Playwright Convening (pt. 2)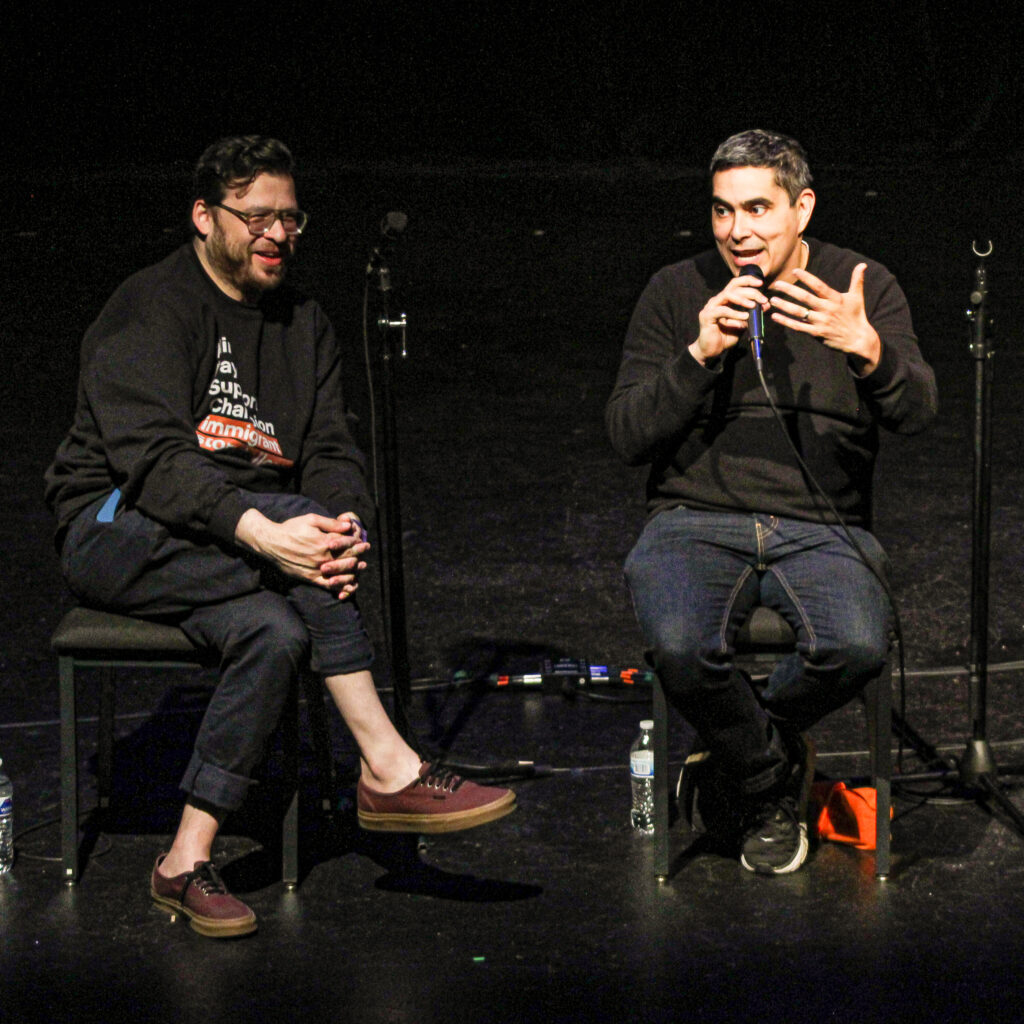 In part 2 of the Playwright Convening Satellite series, we hear reflections on the week's work from the playwrights and workshop directors.
In the first half, Director of Community Engagement, Tamara Carroll, sits down with christopher oscar peña and Kristoffer Diaz at the end of their week-long Portland residency, where they workshopped two plays that will enjoy their world premieres at Profile next season – our orange sky, and Reggie Hoops.
In the second half, we hear from directors Leah C. Gardiner and Dámaso Rodríguez about their techniques for effectively staging a reading specifically for the purpose of helping the playwrights develop their work.
---
Episode 13: Orbiting the Playwright Convening (pt. 1)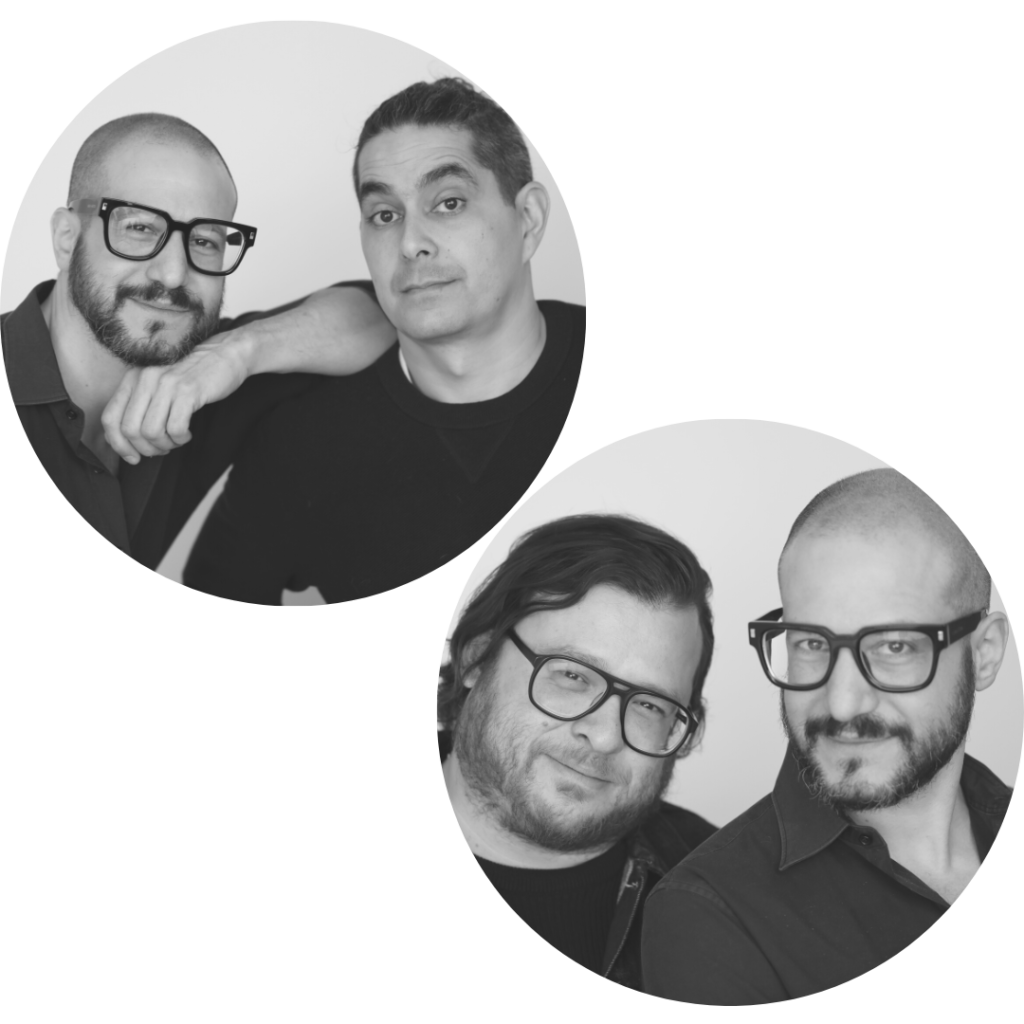 In this episode, Artistic Director Josh Hecht helps position the Convening, both within The American Generation season, and in Profile's own history. Following that, Kristoffer Diaz (Chad Deity, Welcome to Arroyos) describes the evolution of his new play Reggie Hoops, and christopher oscar peña shares just how closely his art imitates his life in both How to Make an American Son, and our orange sky.
---
Episode 12: Orbiting Welcome to Arroyo's (pt. 2)
In this episode, host and director of Welcome to Arroyo's by Kristoffer Diaz, sits down with two Portland hip-hop artist (and Arroyo's cast members), Milc and Old Grape God to discuss music, being in the cast, and the Portland hip-hop scene.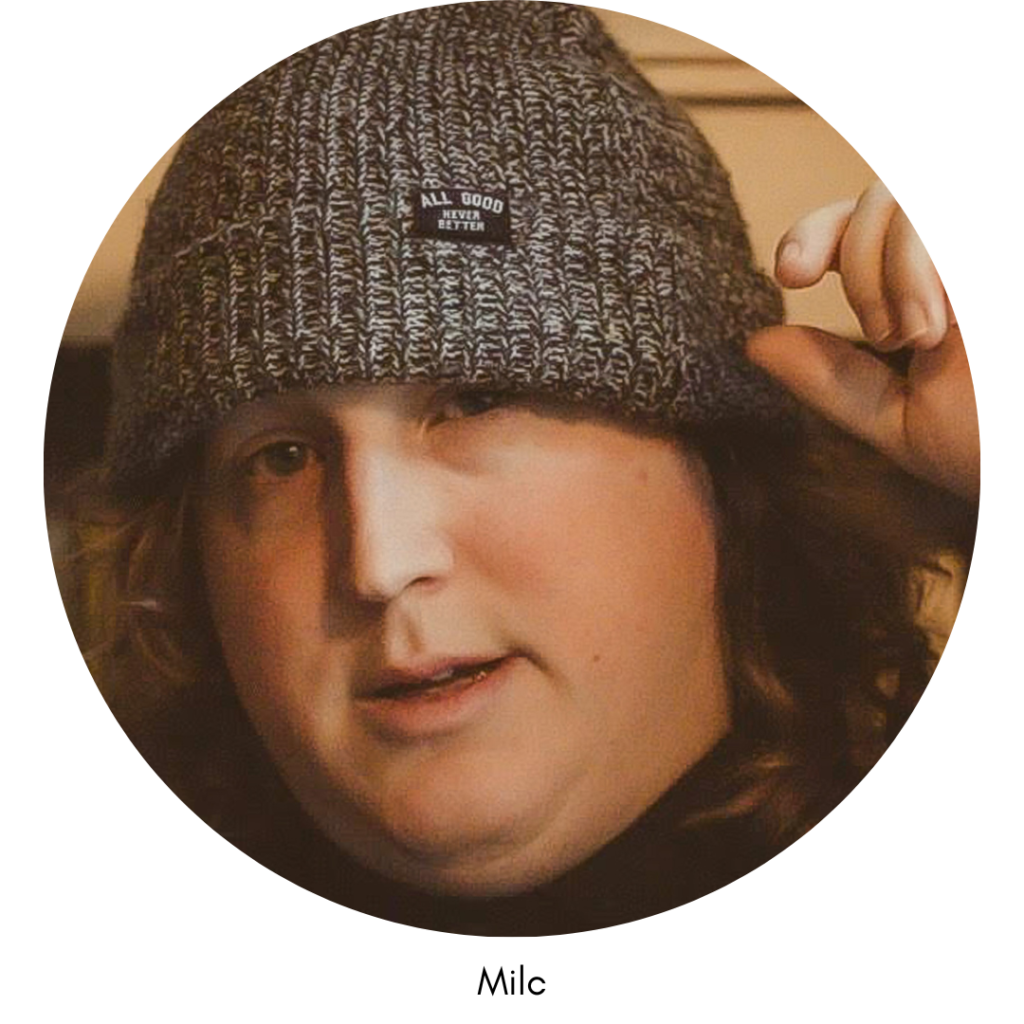 Ben "Milc" Johnson is excited to be making his acting debut in Welcome To Arroyo's. He is a NE Portland native who has garnered success nationally in the underground hip-hop scene under the MC name Milc, releasing several projects in the last 2 years alone (most recently 'Neutral Milc Motel' and 'Windbreaker XL'). He has performed shows in Portland and beyond, opening for acts like Boldy James, Armand Hammer and Blu and Exile. This is Ben's first foray into acting, and he's excited for the opportunity to highlight the joy of rap and connect with his community in a new way.
Anthony "Tron" Parrish is an artist based in Portland, OR. He has been performing musically as Old Grape God since 2012, releasing 37 albums through 2022, collaborating with over 100 other musicians (including Milc, who plays Trip Goldstein). When he is not performing, he is a self-taught oil painter, poet, muralist, embroiderer, designer, producer, audio engineer, printmaker, or whatever the job calls for; claiming the title of All-Purpose Artist. After spending most of his 20's working in leather goods, Tron made the switch to full-time artist, in a quest to explore every artistic medium and form of expression. He also co-hosts a monthly comedy show at Beuhlahland called Stoolhumpin'. Welcome To Arroyo's is Tron's first time acting outside of a music video.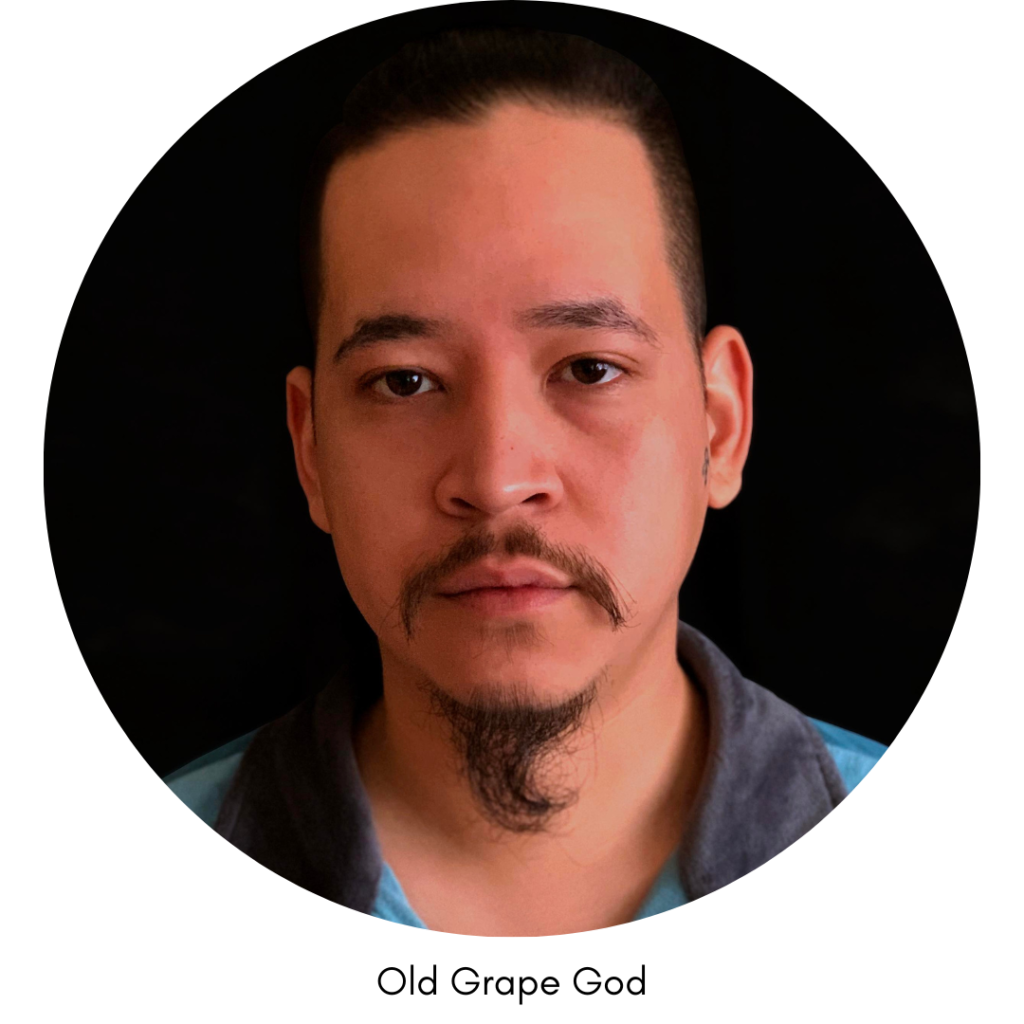 ---
Episode 11: Orbiting Welcome to Arroyo's (pt. 1)
In this episode, host Bobby Bermea (who is also directing Welcome to Arroyo's) chats with playwright, Kristoffer Diaz about what inspired Arroyo's, New York City, his Puerto Rican heritage, his love of hip-hop music and more!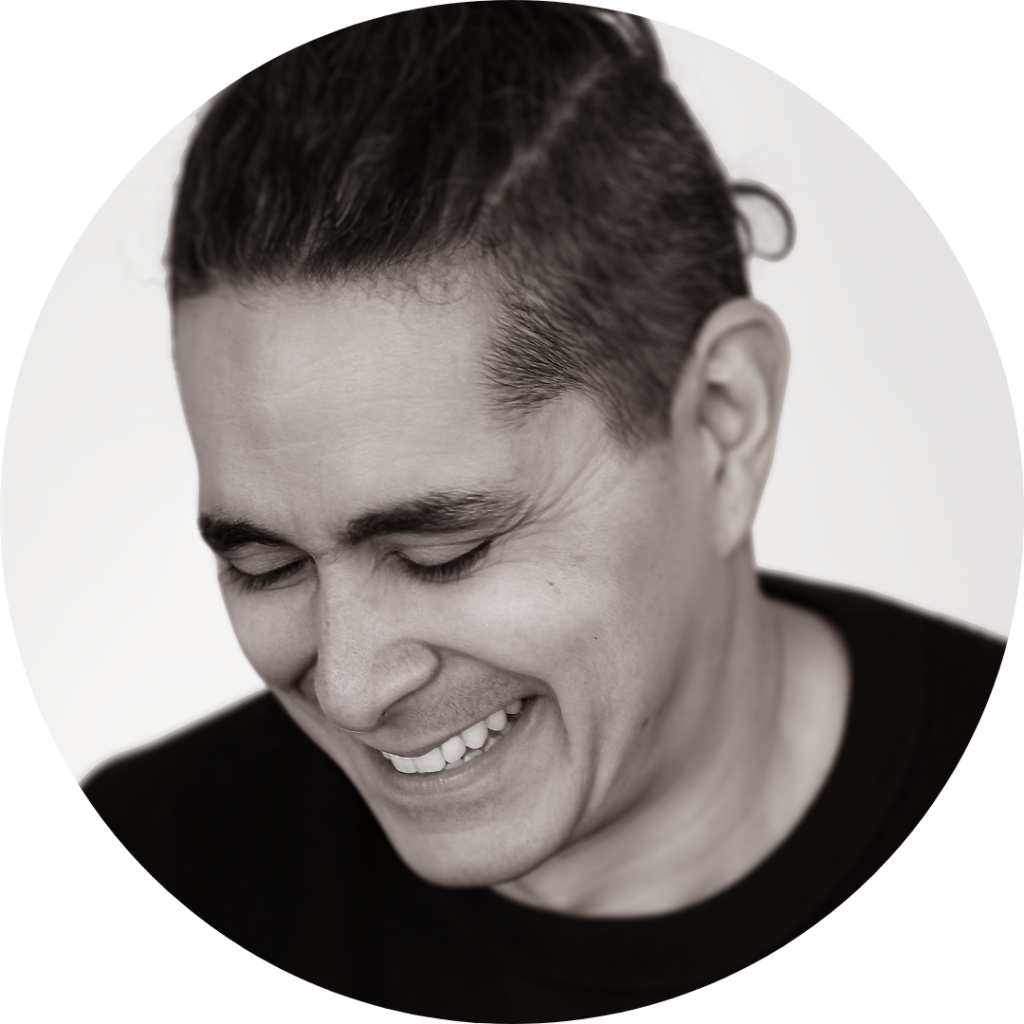 KRISTOFFER DIAZ is a playwright, librettist, screenwriter, and educator. His play The Elaborate Entrance of Chad Deity was a finalist for the Pulitzer Prize in Drama. Other full-length titles include Welcome to Arroyo's, Reggie Hoops, Hercules, and The Unfortunates. His work has been produced, commissioned, and developed at The Public Theater, Dallas Theater Center, Geffen Playhouse, ACT, Center Theatre Group, The Goodman, Second Stage, Victory Gardens, and Oregon Shakespeare Festival, among many others.
Awards include the Guggenheim, Jerome, Van Lier, NYFA, and Gail Merrifield Papp Fellowships; New York Times Outstanding Playwright Award; Lucille Lortel, Equity Jeff, and OBIE Awards; and the Future Aesthetics Artist Regrant, among others. As a screenwriter, Kristoffer has developed original television pilots for HBO and FX, written for the first season of Netflix's GLOW, and adapted the musical Rent for FOX. Kristoffer teaches playwriting at New York University. He is an alumnus of New Dramatists and a member of its Board of Directors, and the current secretary of the Dramatists Guild Council.
Episode 10: Orbiting King of the Yees
This episode of Satellite: Beyond the Page orbits our production of King of the Yees. You'll hear from Director Lava Alapai about why King of the Yees has been a "bucket-list" project since she first read the script five years ago.
Host Bobby Bermea also speaks with Nick Lee of the Portland Lee Association Lion Dance Team about the tradition of Chinese family associations, lion and dragon dances. Bobby also talks to photographer and artist Horatio Law about the lobby display he curated, the work currently on display at the Portland Chinatown Museum, and the evolution of Portland's Chinatown.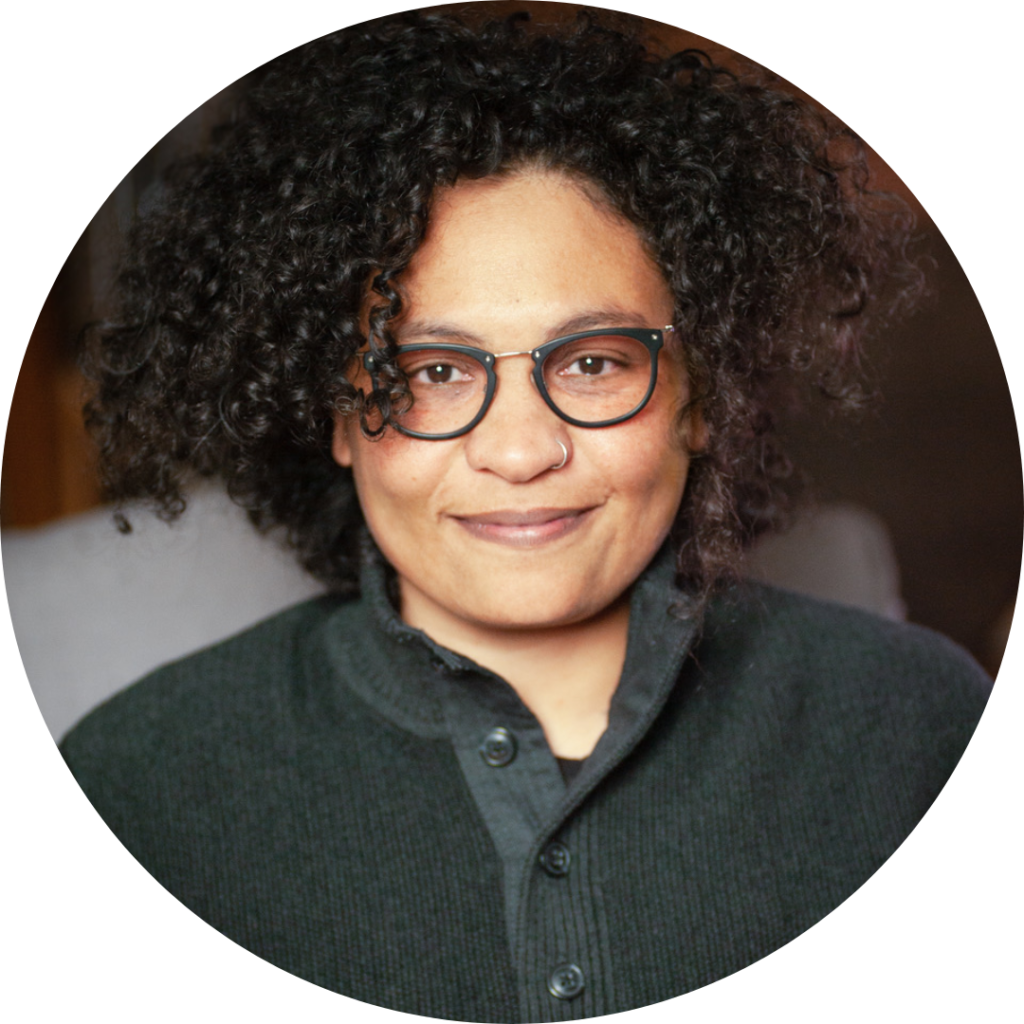 Lava Alapai is a director, playwright, and photographer born in Okinawa, Japan, and raised in Honolulu, Hawaii. She has been creating theatre in Portland for over a decade, and some of her recent directing credits include School Girls, or; the African Mean Girls play for Portland Center Stage, The Chinese Lady, The Revolutionists, and An Octoroon (co-direction) for Artists Repertory Theatre, Is God Is for Washington Ensemble Theatre, Columbinus, Charlotte's Web and Locomotion (Drammy award – Direction) for Oregon Children's Theatre. Writing credits include The Rudy project for Artists Repertory Theatre's Mercury Festival, T.I.N.A for 48hour Film Festival, redline for 24hr Theatre Festival, and Mutt for ManyHats Collaboration with support from a grant from the Regional Arts & Culture Council. She is a proud member of the Stage Directors & Choreographers Society (SDC) and Dramatists Guild.
Nick Lee is a coach of the Portland Lee's Association Dragon & Lion Dance Team. In 2004 under the guidance of elder Ken Lee, Nick assisted his uncle Terry Lee and cousin Eric Lee in starting the team. Since then Nick has traveled to China twice to study traditional Fut San lion dance. He has also had the opportunity to learn contemporary Hok San lion dance with Masters from Singapore & Malaysia. He is dedicated to teaching and passing on the Lion Dance Art to future generations. www.leeondong.org
Photo credit Frank Chin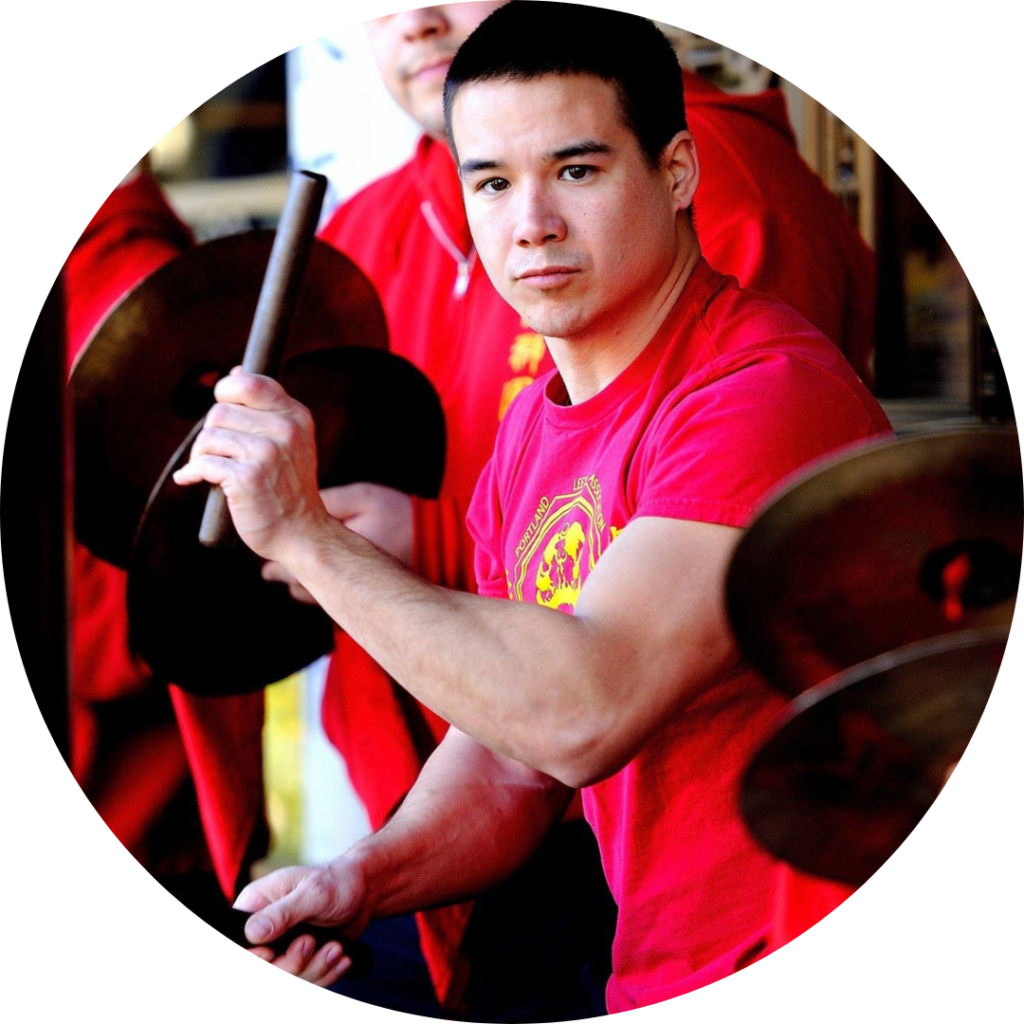 ---
This month's episode of Satellite orbits Profile's production of THE ELABORATE ENTRANCE OF CHAD DEITY by Kristoffer Diaz, directed by Josh Hecht. We'll talk with Playwright Kristoffer Diaz, who's been a finalist for the Pulitzer Prize and winner of the Lucille Lortel, Obie and New York Times Outstanding Playwright Award. We'll talk about playwriting, sports and breaking through barriers. Then, we'll talk with professional wrestler William "Malcolm Phlex" Evans, who served as Wrestling Director on CHAD DEITY about his career and why he thought pro wrestlers were divas…until he started working in the theatre! But first up: Award-winning Playwright and Profile Theatre Featured Writer Kristoffer Diaz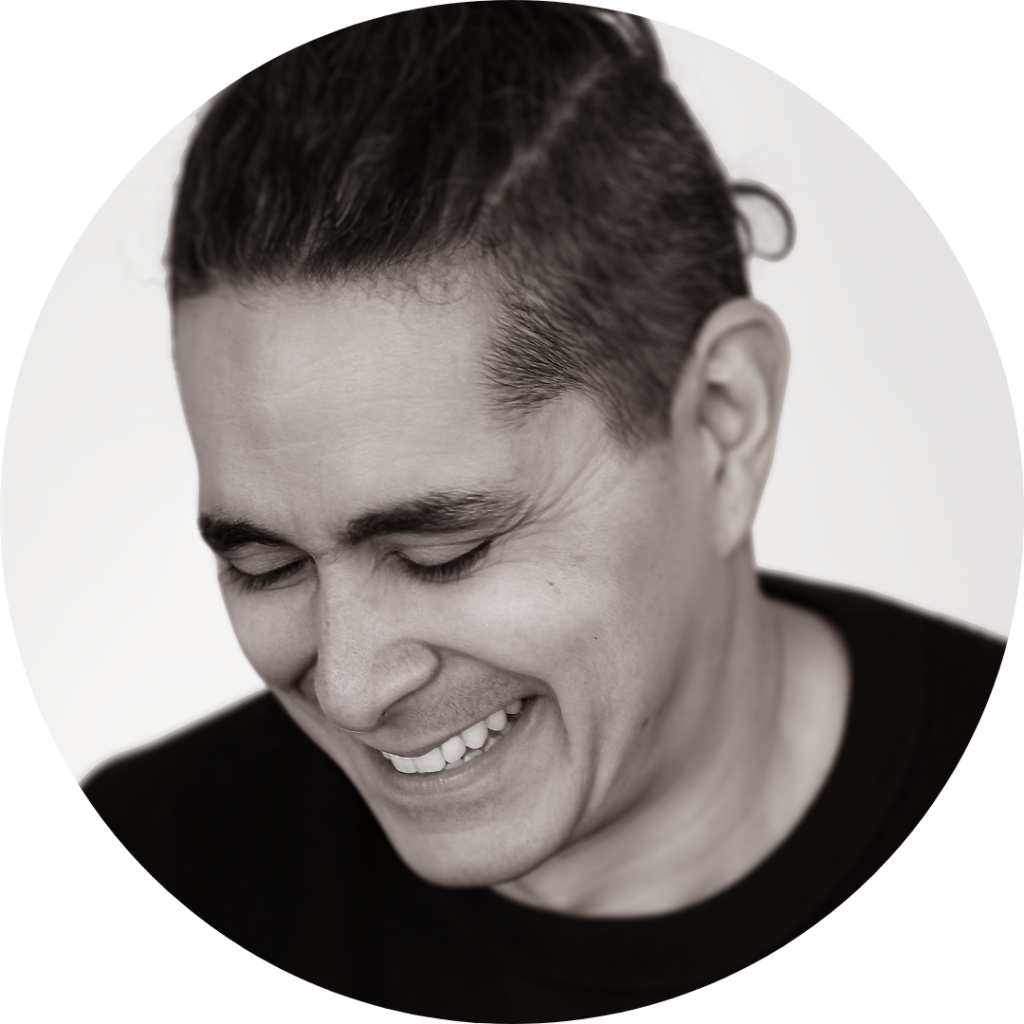 KRISTOFFER DIAZ is a playwright, librettist, screenwriter, and educator. His play The Elaborate Entrance of Chad Deity was a finalist for the Pulitzer Prize in Drama. Other full-length titles include Welcome to Arroyo's, Reggie Hoops, Hercules, and The Unfortunates. His work has been produced, commissioned, and developed at The Public Theater, Dallas Theater Center, Geffen Playhouse, ACT, Center Theatre Group, The Goodman, Second Stage, Victory Gardens, and Oregon Shakespeare Festival, among many others.
Awards include the Guggenheim, Jerome, Van Lier, NYFA, and Gail Merrifield Papp Fellowships; New York Times Outstanding Playwright Award; Lucille Lortel, Equity Jeff, and OBIE Awards; and the Future Aesthetics Artist Regrant, among others. As a screenwriter, Kristoffer has developed original television pilots for HBO and FX, written for the first season of Netflix's GLOW, and adapted the musical Rent for FOX. Kristoffer teaches playwriting at New York University. He is an alumnus of New Dramatists and a member of its Board of Directors, and the current secretary of the Dramatists Guild Council.
Honorable Malcolm Phlex
Spreading Love one body at a time.
Pro wrestler 8 years
Trainer at Oregon Pro Wrestling School 2 years
Commercials
Extra in Indy movies
Personal trainer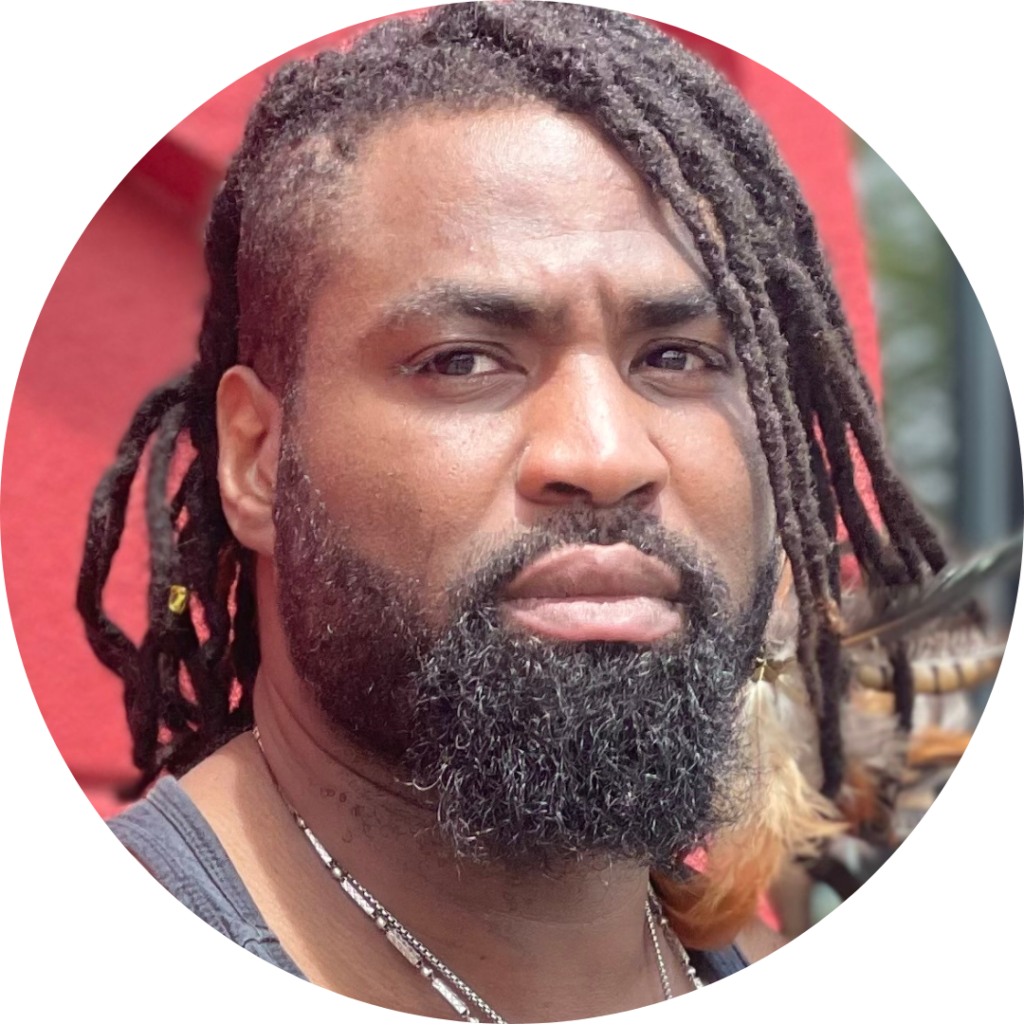 ---
This episode of Satellite is an exploration and discussion of the themes percolating on the surface and underneath Branden Jacobs-Jenkins award-winning play, Appropriate. We will speak with director Jerry Ruíz, about how he approaches this complex and potentially volatile work both within the art itself, and the practical concerns of what the artists are being put through. We'll also be talking to Dr. Roberta Hunte, who teaches a course on race and social justice at Portland State University, talks about the difficulty and necessity of talking about race and offers some tools to help us through it. And artist and memory activist Michael Stevenson talks about the work he's doing here in Portland to bring hidden histories forward in 21st century Portland.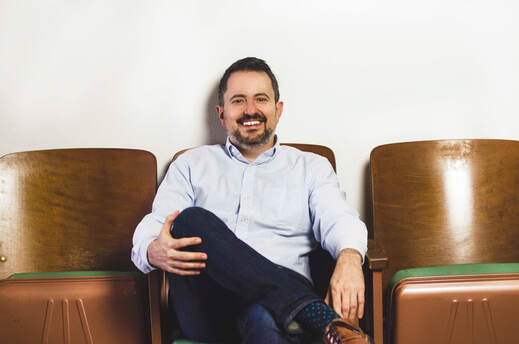 Jerry Ruiz's directing credits include: world premieres at Denver Center for the Performing Arts Theatre Company, Second Stage Theatre and Rattlestick Playwrights Theatre, as well as Off-Broadway and regional productions at the Old Globe, Primary Stages, Hartford TheaterWorks, PlayMakers Repertory Company, Mint Theater Company, Stages Repertory Theater, Clubbed Thumb, NYC Summerstage, Chalk Rep and Repertorio Español. He has developed work at Playwrights Horizons, Soho Rep, The Public Theater, Atlantic Theater Company, Oregon Shakespeare Festival, and the Playwrights Realm.
From 2011 to 2015, he served as curator for the Crossing Borders festival of new plays at Two River Theater in New Jersey. He was a recipient of the 2009–2011 NEA/TCG Career Development for Theatre Directors Grant. He received his M.F.A. from UC San Diego and his B.A. from Harvard University. SDC Member. Currently, he serves as the head of the MFA Directing program at Texas State University.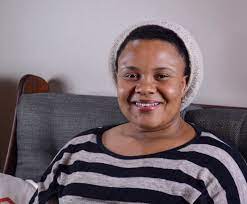 Dr. Roberta Hunte is an Assistant Professor at Portland State University's School of Social Work. She received her M.S. in Conflict Resolution from PSU, and her doctorate from the University of Manitoba in Peace and Conflict Studies. She is affiliate faculty in Women, Gender, and Sexuality Studies and Black Studies. Hunte is a community engaged Black feminist scholar, whose academic interests include sexual and reproductive justice, cultural work for social change, and how Black, Indigenous, and People of Color navigate institutions: particularly construction, maternal healthcare, and higher education.
Her creative critical scholarship includes the theatre piece "My Walk Has Never Been Average," and short film "Sista in the Brotherhood," both informed by her research with Black tradeswomen and devised theater piece entitled "We are BRAVE," based on reproductive stories from people of color and transgender people.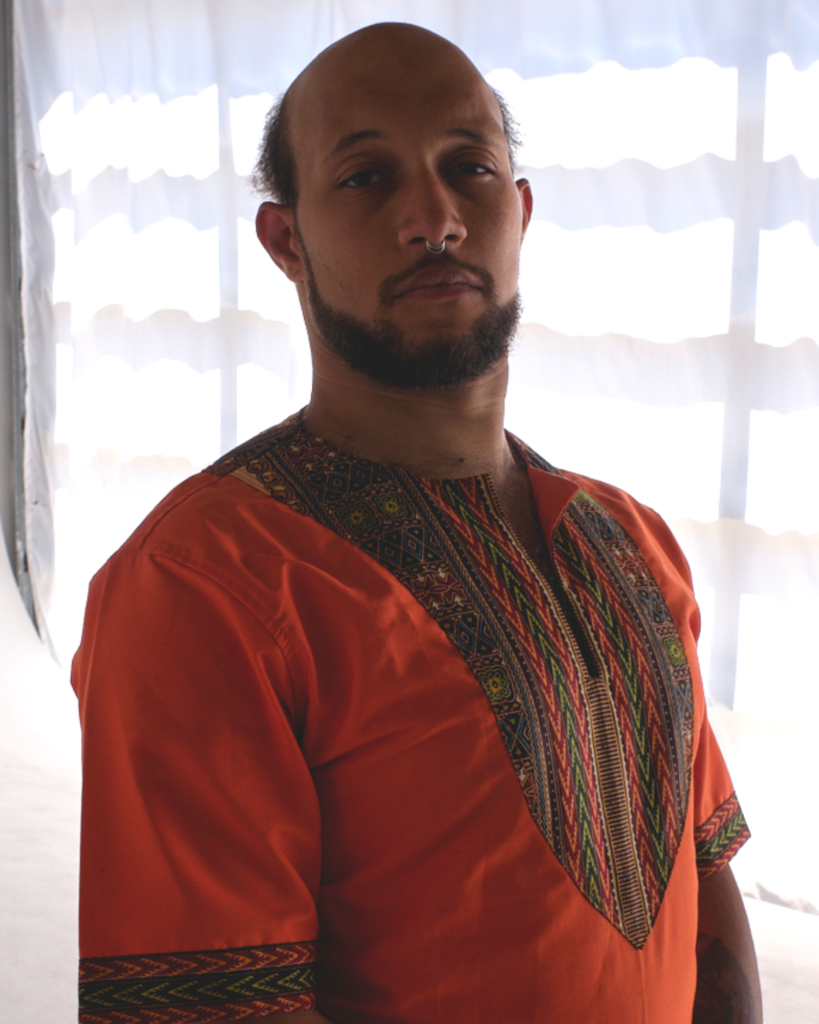 Michael Bernard Stevenson Jr. is Black, Italian, queer, non-binary, and practices primarily in america. Their collaborative approach results in artwork by and for the people.
Stevenson's practice has been dedicated to supporting young people ages 4 to 18 in developing the necessary skills to encourage advanced imaginative thinking and self-confident expression. In 2019 they developed the Afro Contemporary Art Class at Dr. Martin Luther King Jr. School which has had many forms since, including Afro Futurist February, Fred Hampton Summer Camp and most recently taking the shape of support for the effort to Save Dr. Martin Luther King School from being displaced by the expansion of Interstate 5 which has triggered the need to move Harriet Tubman Middle School.
Stevenson also has a robust portfolio of artist projects centering food and gathering around it, and new work in collaboration with currently and formerly incarcerated folks. These include Tin Can Phone, a podcast all about life in and outside of prison, and Gallery Blue, a curation and exhibition project both of which are owned and operated by formerly incarcerated individuals. Stevenson pursues these professional and creative goals passionately because they believe that empowered and open-minded young people and communities are the best and most direct way toward ensuring a sustainable and prosperous future for all.
---
This month's satellite delves deep into the world of Brandon Jacobs Jenkins' Gloria. Kelsea Ashebrenner, from the Soul Box Project, a non-profit that uses art to prevent gun violence, speaks on their work and makes a harrowing reveal.
Jon Cole talks about how he balances commitment to art with commitment to safety when creating violence onstage and Amanda Soden talks about the violence present in Gloria and what truths about our everyday world are revealed or upended.
Kelsea Vierra Ashenbrenner
Administrative Assistant – Soul Box Project
I am the person who says, "Yup! I can do that!" I make sure the details are tended to.
When Kelsea is not working with The Soul Box Project she is doing theatre. She is an actor, director, and deviser of new work. She shares her life with her husband and their two cats.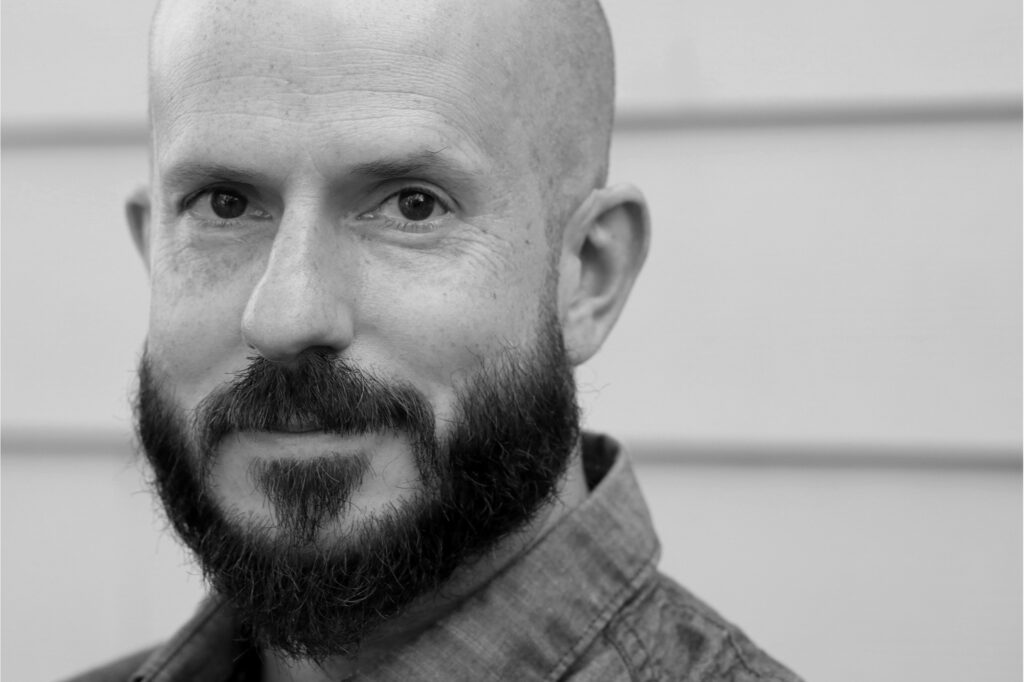 Jonathan Cole – fight choreographer. (he/him/his) has been choreographing at ART since 2010, and has been the Resident Fight Choreographer here since 2013. He has worked throughout the northwest as a director, actor, and fight director, and is Department Chair and a tenured faculty member of the Theatre Department at Willamette University. Jonathan is a Fight Director, Certified Teacher and Theatrical Firearms Instructor with the Society of American Fight Directors. His choreography is most often seen on ART's stage; other Portland credits include Third Rail Repertory Theatre, Portland Center Stage, Portland Shakespeare Project, Clackamas Repertory Theatre, and Profile Theatre. He is proud to be a Full Director/Choreographer with the Stage Directors and Choreographers Society.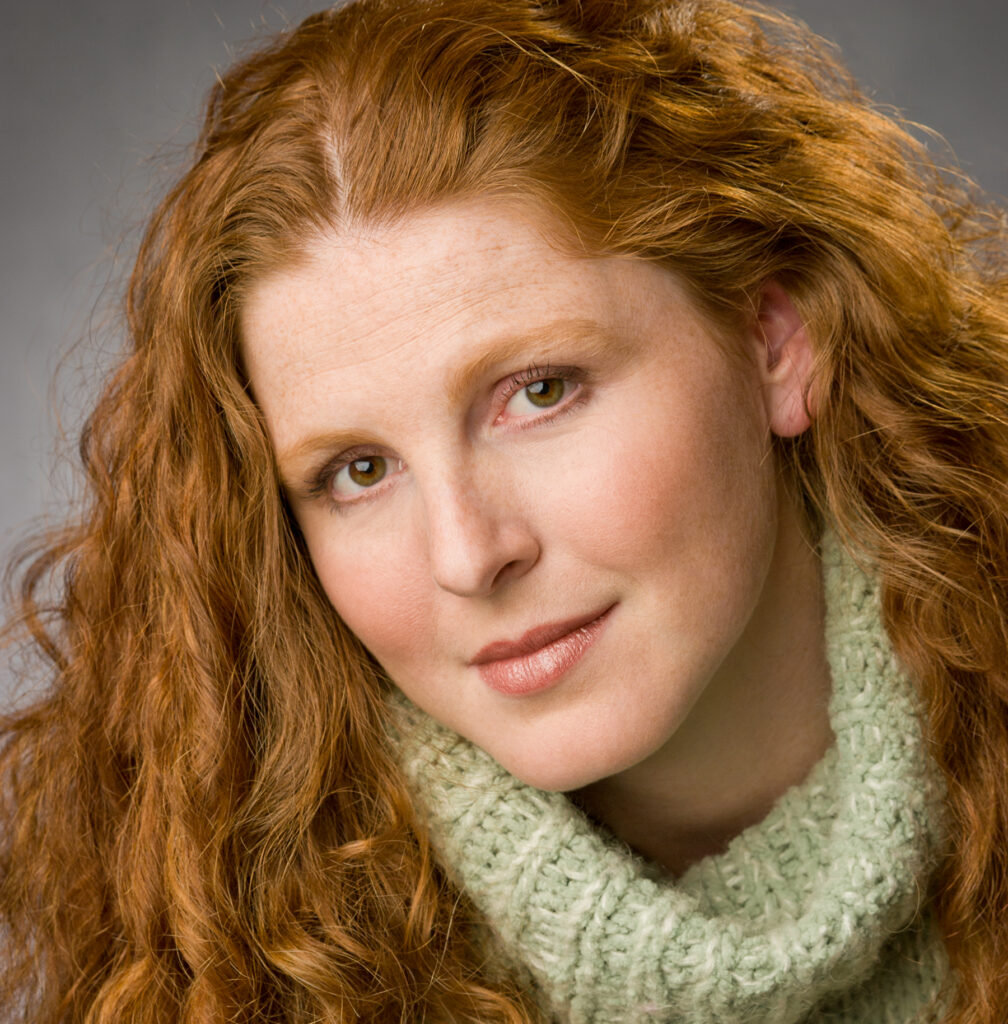 Amanda Soden – mental health therapist, clinical director of the Eating Disorder Center of Portland(EDCP)
Has been working in mental health since transitioning out of the legal field in 2016. Previous to becoming a mental health counselor, she was employed as a civil litigation paralegal, office manager and professional stage actor. Her past work experience has all beautifully come together to support her work as a Clinical Director in the mental health field.
---
EPISODE 6: ORBITING THE OLDEST PROFESSION
Bobby Bermea hosts a "Satellite Extravaganza" when he interviews six individuals:
Charla Hathaway, PhD and Intimacy Coach
Wanda Walden, Costume Designer, and Brenda Phillips ("Mae") of The Oldest Profession
Charlene Zidell (Zidell Yards), Emily Running (DanceWire), and Josh Hecht (Profile Theatre) of Old Moody Stages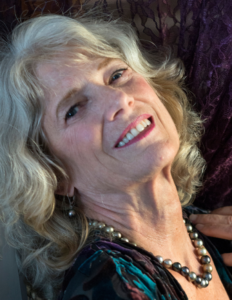 Charla Hathaway, PhD., CSB, founder of Austin's BodyJoyvIntimacy School, helps students find intimate ways to touch, talkvand play. Author of Erotic Massage (reprinted in seven languages), and 8 Erotic Nights, She teaches students that consent and choice are the heart of erotic self-trust and joy. A story teller at heart, Charla has produced two one-woman shows, Naked at My Age, about finding sex work in her fifties, and Tales of Sex Magic & Healing, vignettes of brave and vulnerable client stories from a 20-year pioneering career as erotic muse and healer. Kind of a sexual fairy godmother, Dr. Charla's stories encourage you to trust and tell your own stories. | website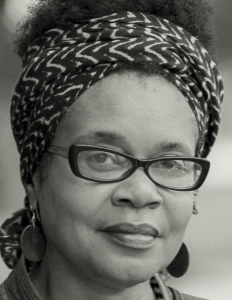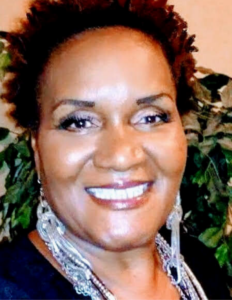 Jefferson alum and career-long friends and colleagues Brenda Phillips and Wanda Walden talk about The Oldest Profession and their work in the Portland theatre scene. Josh Hecht, Charlene Zidell, and Emily Running describe the unique large-scale collaboration that brought Old Moody Stages to life.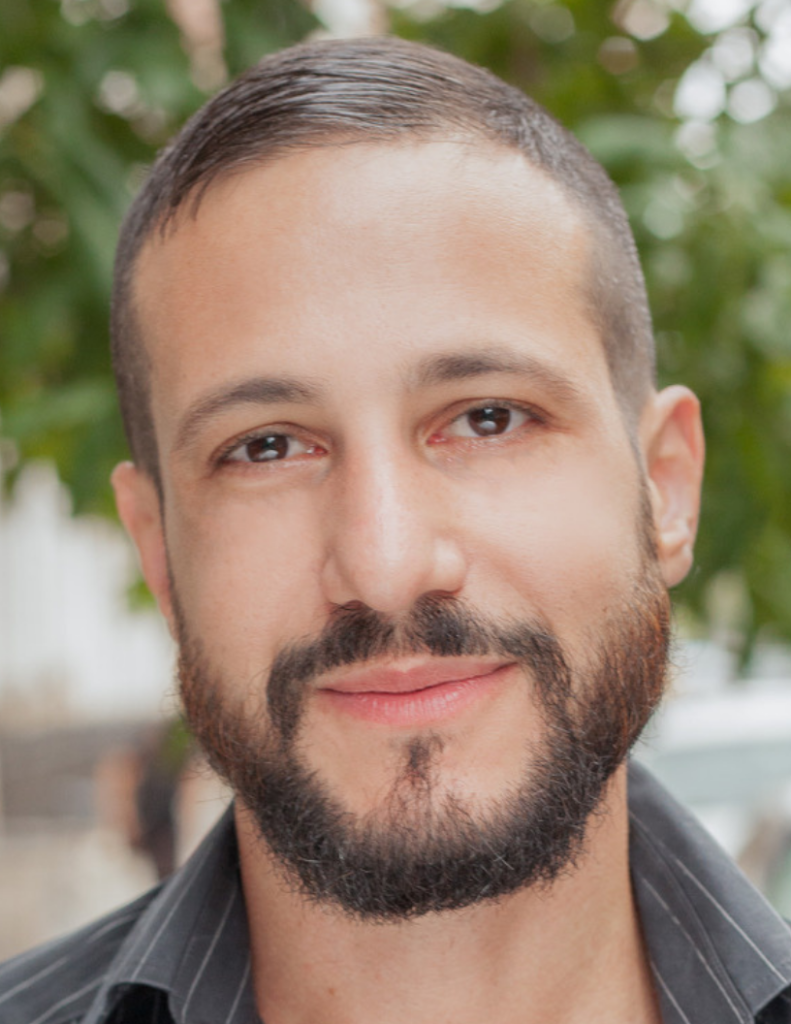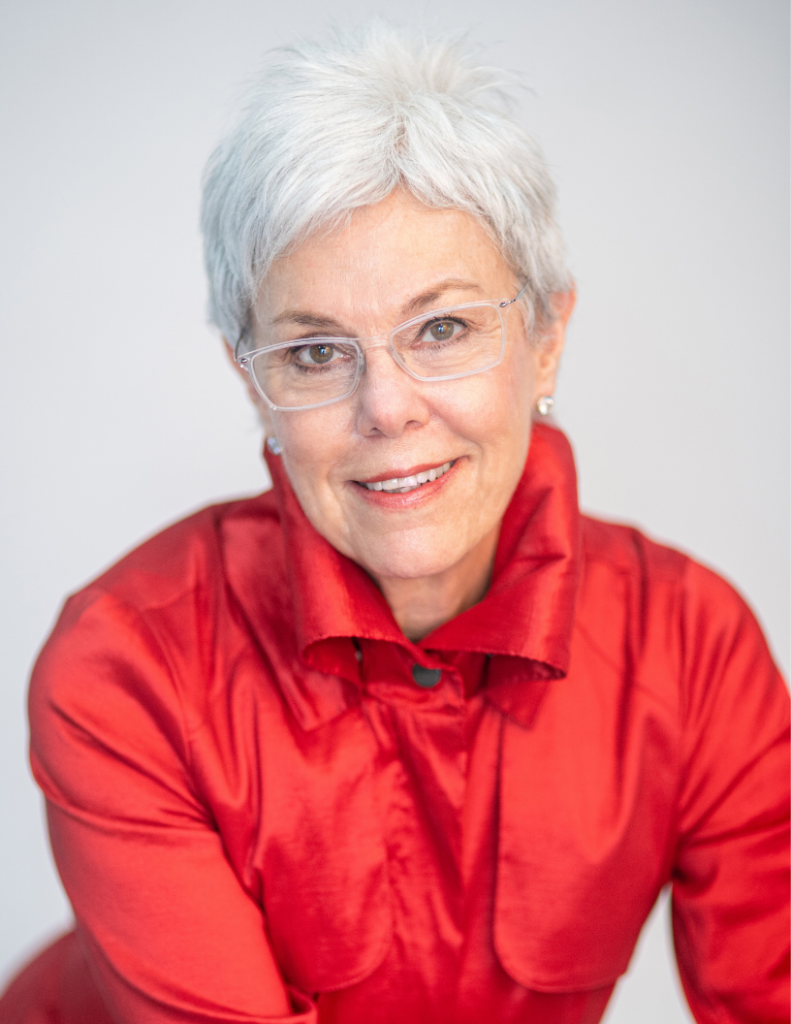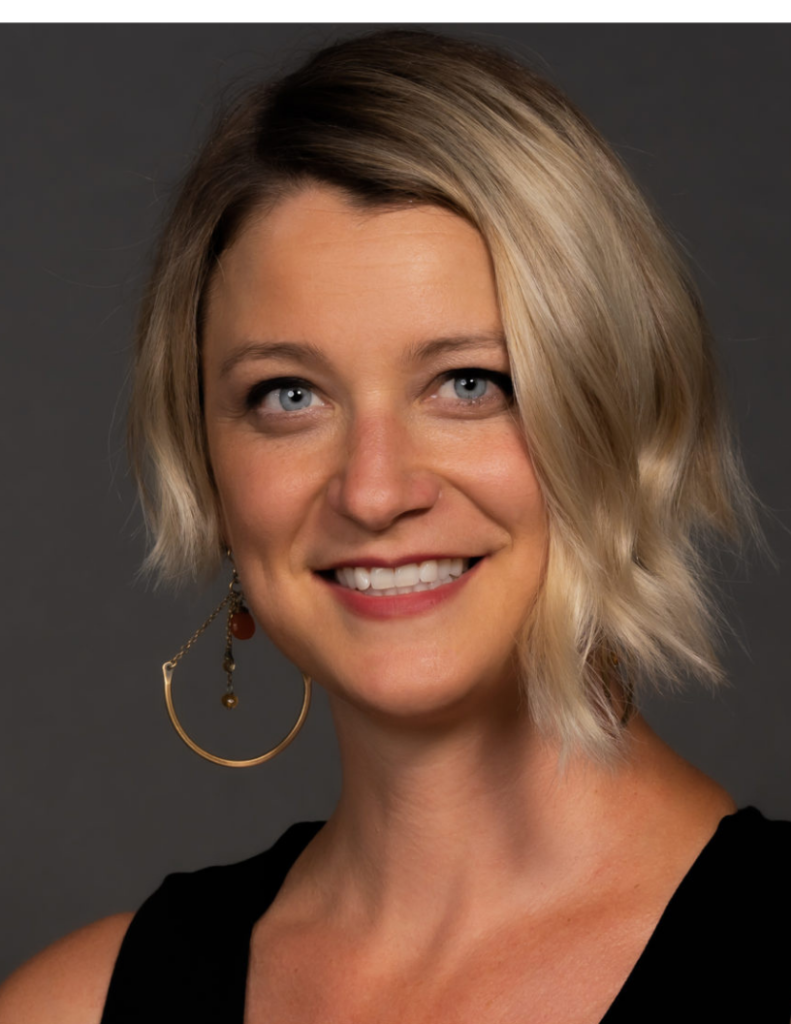 EPISODE 5: ORBITING THE MINEOLA TWINS
"In this month's episode of Satellite, we explore the world of Paula Vogel's The Mineola Twins. We take a trip down memory lane with the wonderful Luan Schooler, who originated the roles of Myrna and Myra 25 years ago, we learn how the magic was made with the extraordinary Jeanette Oi-Suk Yew, and we hear from Profile's artistic director, Josh Hecht in a rare and enlightening interview." -Bobby Bermea
LUAN SCHOOLER (2:17-17:55)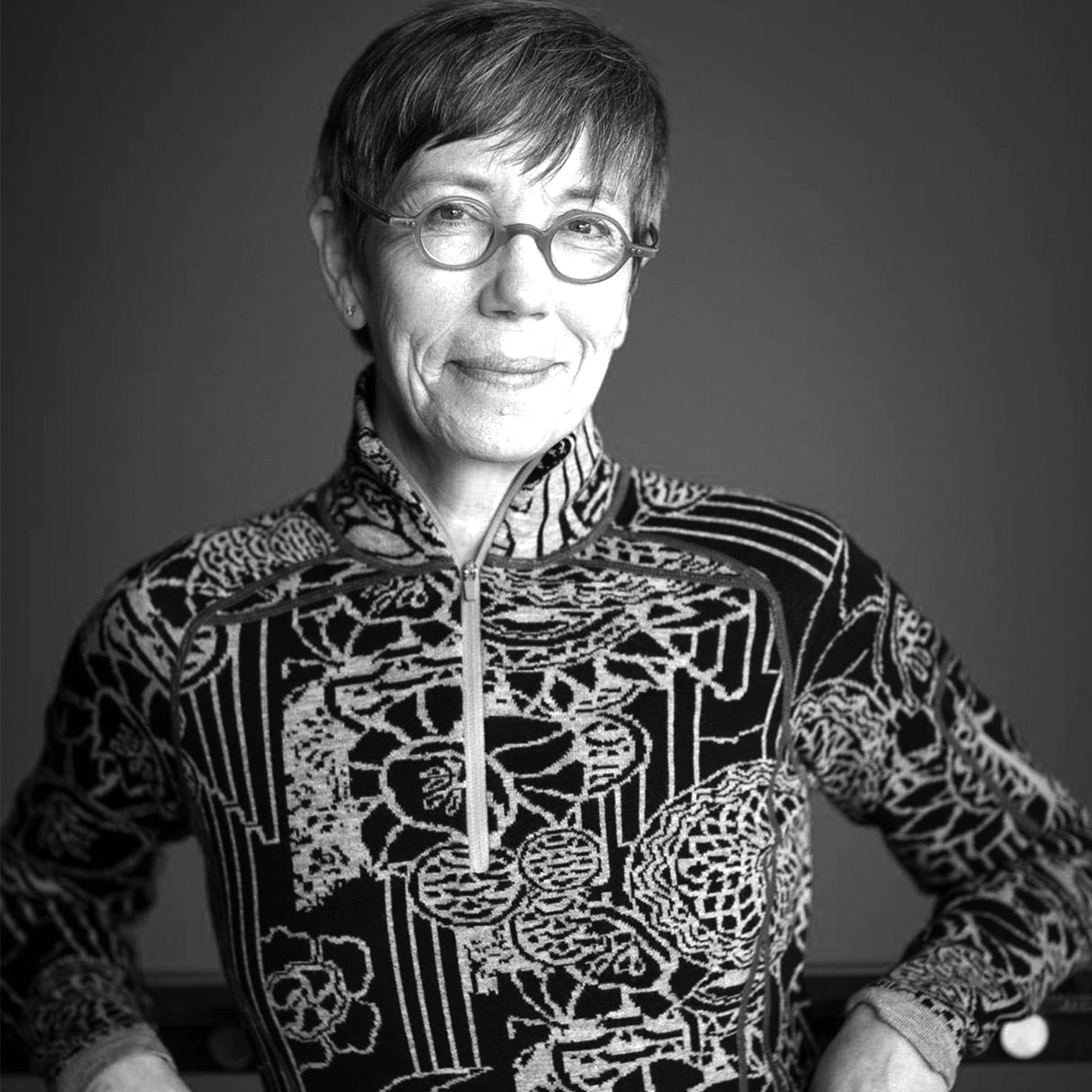 Luan Schooler was born in West Texas, where she trailed her big sister into dance classes and community theatre. When she was 12, the family packed up and moved to Anchorage, Alaska, where play practice and recitals continued to consume her. After being kicked out of high school, she was eventually accepted into the theatre program at CalArts. One thing led to another and a life in theatre was launched. Over the years, she morphed from acting, directing and writing, into dramaturgy and literary management. She has worked with many theatres around the country, most notably with Perseverance Theatre in Juneau, Alaska (where she met and married the marvelous Tim), Denver Center Theatre Company, Oregon Shakespeare Festival, and Berkeley Rep, and developed new plays with exceptional artists including David Edgar, Naomi Iizuka, Salman Rushdie, Dominique Serrand, Leon Ingulsrud, Lisa Peterson, Paula Vogel and Molly Smith.
---
JEANETTE OI-SUK YEW (19:19-36:25)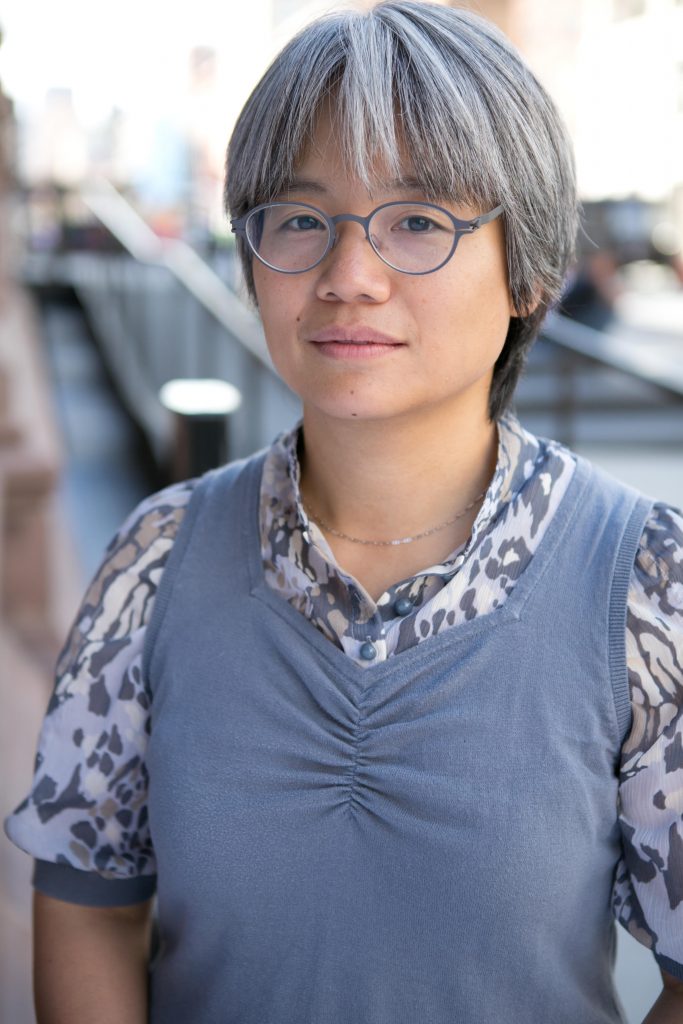 Jeanette Oi-Suk Yew is an award-winning lighting and projection for theatre, dance, opera, musicals, music performances, installation, immersive experiences and digital productions. As a designer she aims to create a visual environment that is organically integrated into the landscape and language of the production as a result her designs were described as "clever" and "inventive" (NY Times). She is excited to return to Profile Theatre since In the Wake. Recent digital works include: Alice in the Pandemic with Elena Araoz and the White Snake Project, Electra with Javier Antonio González, and Maeterlinck's The Blind (an adaptation as an immersive audio/visual journey) with Mia Rovegno.
---
JOSH HECHT (37:40-55:41)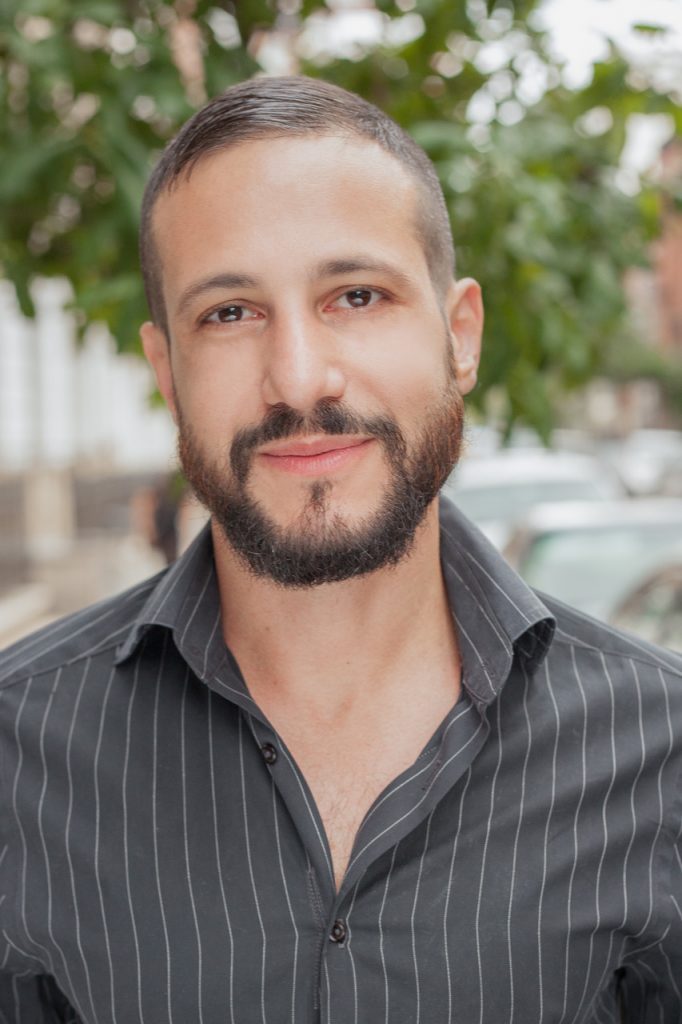 At Profile, Josh has directed Paula Vogel's The Baltimore Waltz and Indecent (co-production with Artists Rep), Lisa Kron's In The Wake and Well, Anna Deavere Smith's Let Me Down Easy and the concert staging of Twilight: Los Angeles 1992 and the rotating repertory productions of Quiara Alegria Hudes' Water By The Spoonful and The Happiest Song Plays Last. Other Portland productions include Mike Lew's Teenage Dick (Artists Rep). His productions have been seen in New York at MCC Theater, The Cherry Lane, The Duke on 42nd Street, New World Stages, Culture Project, regionally at The Guthrie Theater, the Berkshire Theatre Group, the Humana Festival at Actors Theatre of Louisville, Signature Theatre (DC) and internationally at the Dublin Arts Festival, the Edinburgh Festival Fringe and elsewhere. His collaboration with Ping Chong and Company was commissioned by and premiered at The Kennedy Center before touring the northeast.
---
EPISODE 4: ORBITING HOT 'N' THROBBING ILLUSTRATED
In this episode our host Bobby Bermea interviews artists and community partners of Hot 'N' Throbbing Illustrated.
The episode starts with an interview with Raphael House's Prevention Education Specialist Samantha Cohen. Then, Bobby speaks with our collaborator Ant Proctor about their dynamic graphic illustrations. It concludes with a conversation with the audio play's brilliant director Jamie M. Rea.
SAMANTHA COHEN (2:05-14:35)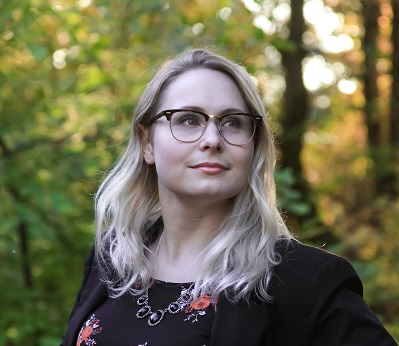 Samantha Cohen joined Raphael House in 2018 as a Prevention Education Specialist. She came into the role with a background in youth empowerment and ability inclusive education. She presents to a diverse range of learners on topics surrounding consent, safe and equitable relationships, intimate partner violence prevention, and more. In addition to her work doing community-based education, she also is an Advocate for young people experiencing teen dating violence. She firmly believes that everyone deserves relationships that are safe, respectful, and rooted in mutual care and respect. In her spare time, Samantha enjoys video editing, reading Marvel comics, and hanging out with her Siamese cat.
---
ANTHONY PROCTOR (16:20-27:10)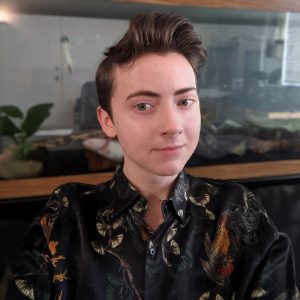 Anthony Proctor is a visual development artist based in Seattle. After graduating with a degree in Studio Art (but without a studio), they turned from mixed to digital media in order to bring stories and characters to life using a graphic cartoon style. They like to mash together techniques learned from film, comics, and animation into a hybrid form of dynamic storytelling.
Anthony's work has been shown at the Hallie Ford Museum of Art in Salem, Oregon as well as the Salem Art Association.
---
JAMIE M. REA (28:52-44:39)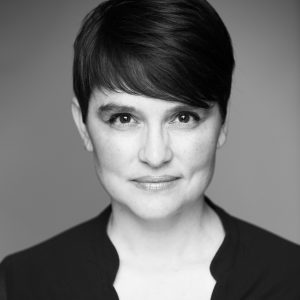 Jamie M. Rea has had the pleasure of exploring theatre as a tool for connection and change for over 20 years. After directing in LA, New Zealand, Australia, Canada, Ohio, New York, and Portland, she now serves as founding co-artistic director of The Beirut Wedding World Theatre Project. Recent local credits include Jesus Hopped the A-Train, CoHo/Beirut Wedding, Topdog Underdog (Street Scenes) and B*tch in Kitchen as part of Salt with Shaking the Tree. Jamie's activism work has a heavy focus on survivors of sexual violence. Two local projects include the development of and tour of Telling – a piece where survivors tell their own stories with facilitated audience conversations (3 year partnership with OAASIS – a Portland based resource and advocacy organization for adult survivors of childhood sexual abuse). And Made to Dance in Burning Buildings, an interdisciplinary dance/theatre piece of a survivor's reclamation of self as she navigates PTSD.
---
EPISODE 3: ORBITING LAS MENINAS
In this episode our host Bobby Bermea interviews artists of Las Meninas by Lynn Nottage. Actress Lauren Modica talks about her art and hopes for the future for the American stage. Then, we hear from sound designer and composer Matt Wiens about his inspiration and approach to layering in music and effects for our audio play adaptations. Our episode wraps as director Dawn Monique Williams discusses this play (written about the African presence in the French Court) and its resonances with the Black Lives Matter movement.
LAUREN MODICA (1:40-32:17)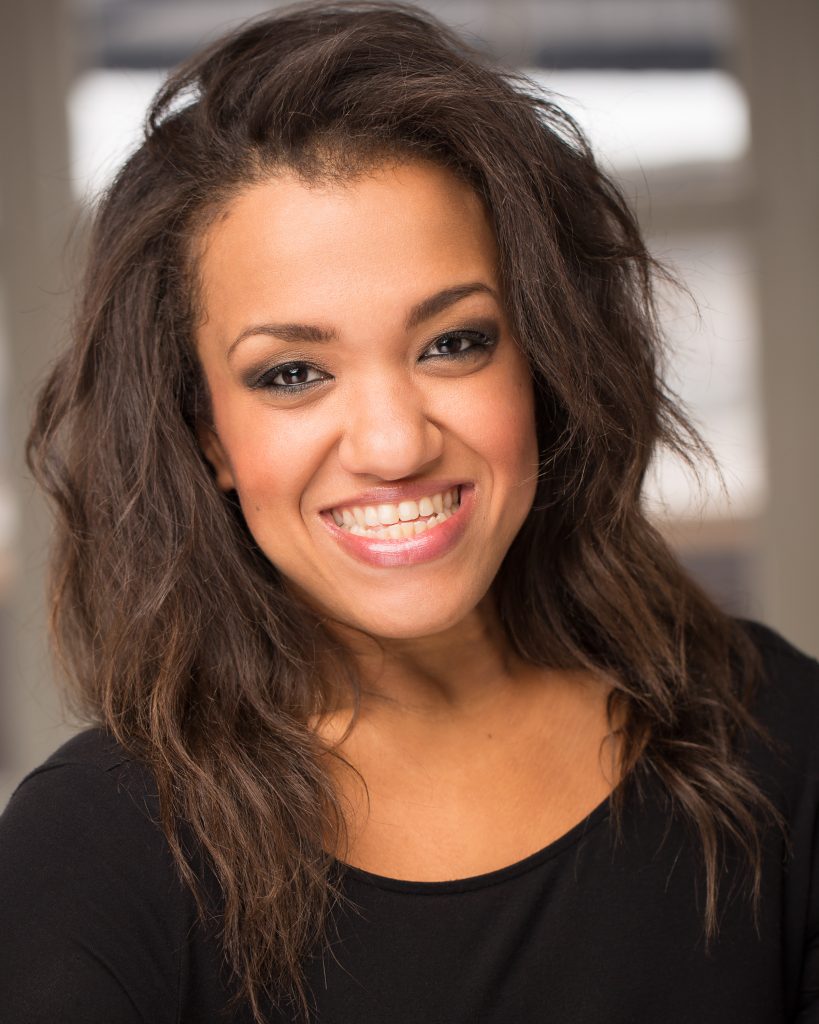 Lauren Modica was last seen at Profile in The Antigone Project (Antoinette + others), and last in PDX as Mrs. Jennings in Bedlam's Sense & Sensibility and Mary Bennet in Miss Bennet: Christmas at Pemberley (Portland Center Stage) she has spent the last four years at The Oregon Shakespeare Festival, where recent roles include Titania/Hippolyta in A Midsummer Night's Dream, the Cheshire Cat Alice in Wonderland, Widow All's Well That Ends Well, and others. Other theaters include American Repertory Theater, Artist's Rep, Defunkt, and others.
---
MATT WIENS (20:50-33:20)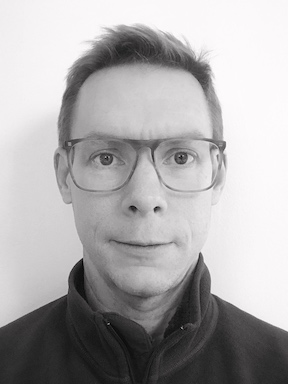 Matt Wiens is a Portland-based composer and sound designer and is excited to be a part of this new project. Recent work includes Indecent with ART and Profile Theater; Claudia, A Viral Love Story, The Baltimore Waltz, Well, and Let Me Down Easy with Profile Theater; The Bakkhai and Escaped Alone with Shaking The Tree Theater; MALA with CoHo Productions; Crowns with Portland Playhouse. Matt holds a BA in Theater from Goshen College and a Masters in Music Technology from NYU.
---
DAWN MONIQUE WILLIAMS (35:06-50:34)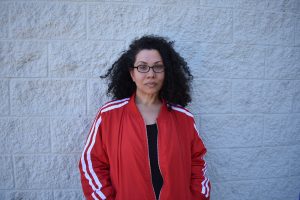 Dawn Monique Williams is Associate Artistic Director at Aurora Theatre Company. A native of Oakland, CA, Dawn was previously the Artistic Associate at the Oregon Shakespeare Festival where she is directing Bernhardt/Hamlet this season, having directed Merry Wives of Windsor there in 2017. Her recent directing credits include Aurora's Bull in a China Shop, Earthrise at the Kennedy Center for the Performing Arts, TiJean and His Brothers, Women on the Verge of a Nervous Breakdown, The Secretaries (Willamette Week's Top 10 Portland Theatre Productions of 2018), Romeo & Juliet, August Wilson's The Piano Lesson, and Lynn Nottage's By the Way, Meet Stark.
---
EPISODE 2: ORBITING HOT 'N' THROBBING
In this episode, our host Bobby Bermea talks to Eleanor O'Brien Actor and Artistic Director of Dance Naked Productions about Eleanor's experience reprising her role as "V.O." and the value of sex-positive theatre. Then, he speaks with Cayenne, a former sex worker turned therapist, turned mother on self-discovery and empowerment. And he interviews Portland superstar and Hot 'N' Throbbing composer Lo Steele on her drive to create and we hear some of her original music.
ELEANOR O'BRIEN (1:48-25:50)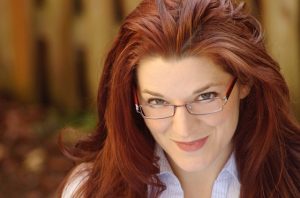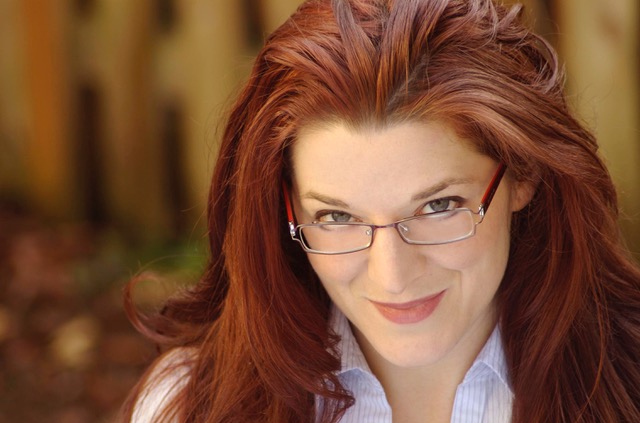 Eleanor O'Brien is the artistic director of Dance Naked Productions, a theater company dedicated to creating sex-positive theater for adults. She has toured and performed her three solo shows How to Really, Really? Really! Love a woman, GGG: Dominatrix for Dummies and Lust & Marriage to international acclaim, and is the creator of the the Inviting Desire series, ensemble productions that include A Theatrical Aphrodisiac, Lubricate Your Libido, Pleasure, Permission, Possibility…and The Dawn of Sex. She has produced the community cabarets What Is Erotic?, Revelations, and Sex We Can! and is the founder of the biennial sex and culture theater festival Come Inside. She hosts the monthly erotic open mic Stand Up Smut, and teaches workshops exploring the intersection between sexuality and creativity. She holds an MFA from The University of San Diego/Old Globe Theatre. Her most recent creation is a speed dating service called Spinner.
---
CAYENNE (27:14-48:44)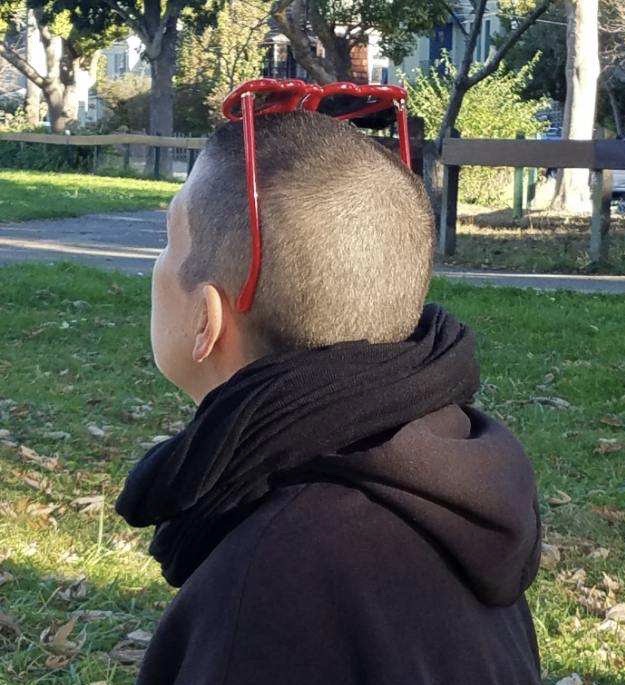 Cayenne is a former stripper now turned therapist and mother. Cayenne doesn't want to show her face or give her real name because of the stigma still attached to women who work or who have worked in the sex industry.




---
LO STEELE (50:27-67:15)
Lo Steele is a singer, songwriter, and award winning actor and poet from Portland. Known for her frank lyrics and simple melodies, like that in her most recent single "Insecurities", she aspires to make art "that makes people feel seen". You may have recently seen her performing her original music as a part of Hallowed Hall's Mayday Lovestream, or in Clackamas Repertory Theatre's Queens Girl in the World, for which she won a Drammy for "Outstanding Solo Performance". Stay tuned for the release of her new single and music video Nighttime Friends.
---
EPISODE 1: ORBITING MLIMA'S TALE
Director of Community Engagement Bobby Bermea talks to Bob Lee, General Curator and Manager of Elephants at the Oregon Zoo about elephant conservation and the way animals can ignite our imaginations. Bobby also talks to singer-songwriter and Mlima's Tale composer Jenn Mundia, who plays some of her newest music live for us in the studio. And Bobby interviews Mlima's Tale director Reg Douglas about Mlima's Tale, Reg's passion for new work and directing during a pandemic.
BOB LEE (1:37-25:00)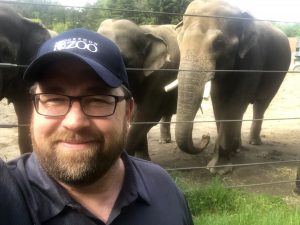 "Bob Lee is the General Curator and Manager of Elephants at the Oregon Zoo. He's also smart, quietly passionate and even after decades in the zoo industry, still maintains a sense of wonder around the elephants he cares so much about." -Bobby Bermea
---
REGINALD L. DOUGLAS (26:35-39:35)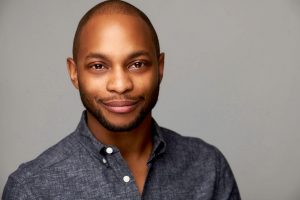 "Reginald Douglas has accomplished a whole lot in his career but one of the things he still had on his list was coming to Portland to create work. That didn't quite happen but he did manage to bring his particular brand of theatrical poetry to a Profile Theatre show, with Mlima's Tale. Reg has a gift for making the act of creation apparent." -Bobby Bermea
Reginald L. Douglas is a director, producer, and advocate dedicated to creating new work and supporting new voices, and the Associate Artistic Director at Studio Theatre in Washington, DC. His passion and acumen for both new play development and re-investigating the classics have led him to theaters across the country, including directing work at Eugene O'Neill Center, TheaterWorks Hartford, Contemporary American Theatre Festival, Everyman Theatre, Weston Playhouse, Pittsburgh CLO, Arizona Theatre Company, Theatre Squared, Playwrights Center, Profile Theatre, Playwrights Realm, Kennedy Center, NNPN Showcase at B Street Theatre, McCarter, Florida Rep, Luna Stage, Harlem Stage, Wild Project, Signature Center, Drama League, The Lark, New York Theatre Workshop, where he was an inaugural 2050 Directing Fellow, and City Theatre in Pittsburgh, where he served as the Artistic Producer from 2015-2020.
---
JENN MUNDIA (41:18-1:05:57)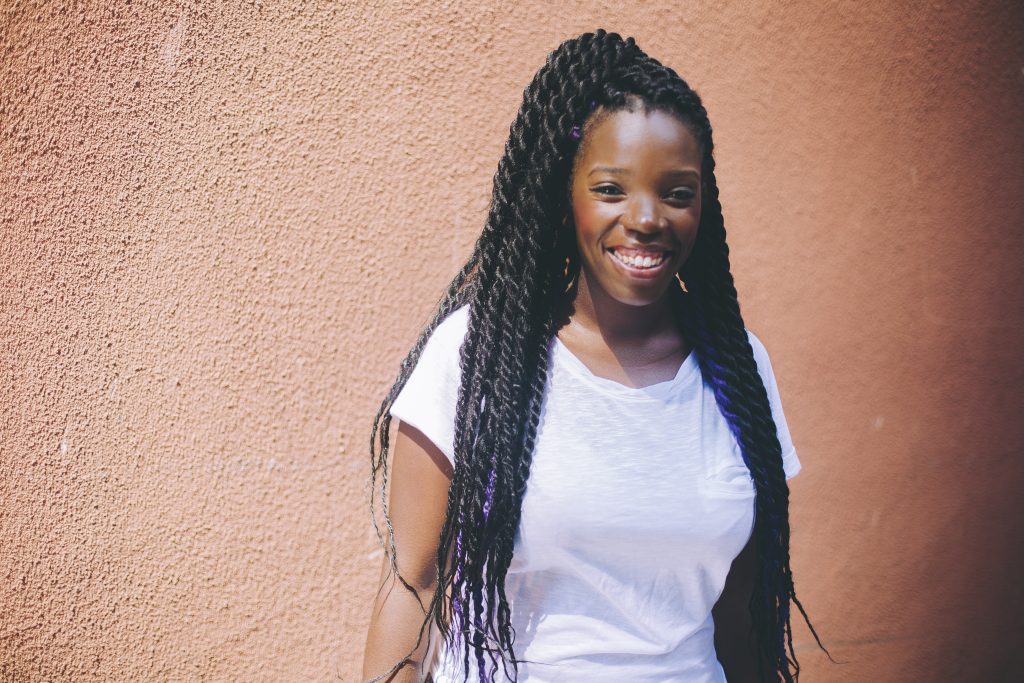 "Singer/songwriter and closet composer, Jenn Mundia (Esabalu) talks to us about her music, her career, and how her family helped create the soundscape for our production of Mlima's Tale. She also shares a song from her new musical persona Esabalu. Through it all you can hear her drive and hear her talent and feel her love for her family." -Bobby Bermea
Jenn Mundia is a Kenyan-American artist with a southern upbringing, currently performing under the pseudonym, "Esabalu." As a graduate of Berklee College of Music, Jenn found herself working on the production and engineering side of the business right out of school but found her way back to stages throughout New York ("Saturday Night Live" w/ Kacey Musgraves, Jimmy Fallon w/ Bastille and Wallows, Seth Meyers, and more). It has been a pleasure to work on Mlima's Tale and reach out to her family for references and inspiration. Check out jennmundia.com for more updates.
MEET THE HOST: BOBBY BERMEA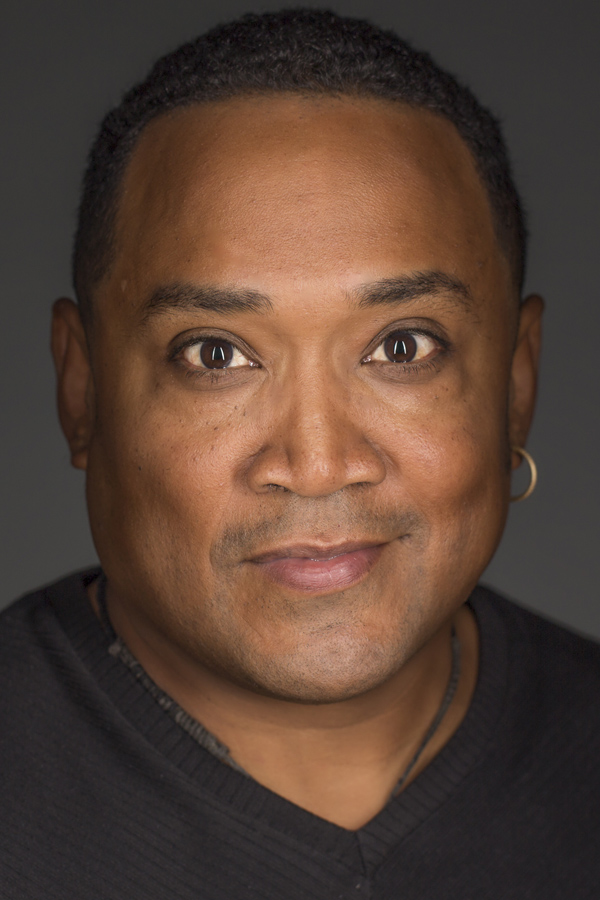 Bobby Bermea is the Director of Community Engagement at Profile Theatre as well as a Portland-based theatre artist. Previously on the Profile stage, Bermea has been seen in Master Harold and the Boys, My Children! My Africa!, Water by the Spoonful, and just recently, Ruined/Mother Courage, as well as having directed Blue Door and Fires in the Mirror.