Support

Gifts of all sizes make an impact.
Profile Theatre's work is fueled by our community. Join us in bringing quality, locally made theatre to Portland for another year by making a gift today.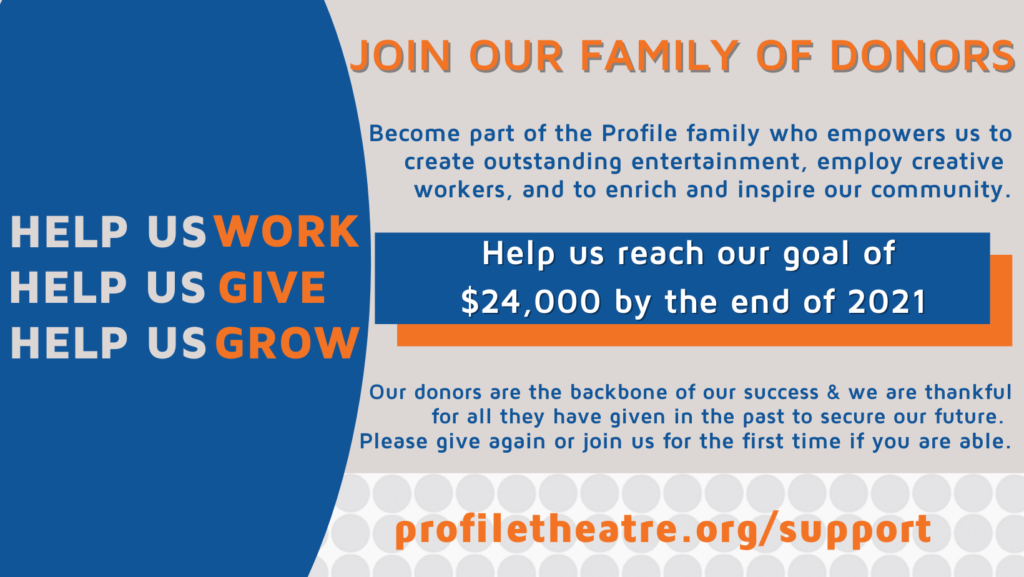 Thanks to our End of Year Campaign Donors, we've surpassed our goal of $24,000!


MEG ALLEN
ACCESS ARCHITECTURE
ELIZABETH ANDERSON
ADRIANA BAER AND RYAN DURHAM
ANN BARDACKE AND DAVID WOLF
ADRIANA BAER AND RYAN DURHAM
CATHERINE BAX AND ANN TURNER
GEOF BEASLEY
RICHARD BRADSPIES AND DORE EVERETT
NITA BRUEGGEMAN
SONIA BUIST
COLLEEN CAIN AND PHILIP MILLER
ADAM CANIPAROLI
PRISCILLA CARLSON AND KAREN WELLS
HOWARD CUTLER
DAVID EUGENE DUETSCH
NANCY DRAKE
FRANCIE AND PAUL DUDEN
DAVID GOLDMAN & MERILEE KARR
MELISSA GOOD
OLIVE GROSE
ANONYMOUS
ANONYMOUS
CHARLA HATHAWAY
ROBERT AND AMY HAYES
WENDY AND TOM HAWKINS
DAWN HAYAMI
ANONYMOUS
JAY HECHT
A. HEIN & EVAN KING
DIANE HERRMANN
KEVIN HOOVER AND NITA BRUEGGEMAN
DENNIS HOPKINS AND CLAIRE COFSKY
BERYL JONES-WOODIN
RICHARD LEWIS
ELISABETH AND PETER LYON
QUINN AULT MACNICHOL
CAREN AND PAUL MASEM
GARY MCDONALD AND BARBARA HOLISKY
CHARLES MESHUL
JEANNETTE MEYER
DAVID PARKER AND ANNIE POPKIN
MATT PEARSON AND DANIEL FOGG
JENNIFER PERRINE
PLACE STUDIO
JOHN RAGNO
BONNIE AND PETE REAGAN
RICK REES
FRAN ROTHMAN
CHARLOTTE RUBIN
JOE RUDY
RICK & HALLE SADLE
BRENDAN SANCHEZ
STEPHEN SCHUITEVOERDER AND TAMI STAUDT
JIM SCOTT AND ELAINE ROBIN
LAWRENCE SMITH
ANONYMOUS
PATRICK STUPEK
ALICE AND STEPHEN STOLZBERG
NEL TAYLOR
TYLER TERMEER, PHD
KENNETH THRASHER
ROZ AND ROY TUCKER
TOM AND LINDA UNGER
ELISE VARGA
ADIN WALKER
CAROLYN WHITNEY
CRAIG WILLIS
KATHLEEN WORLEY
MAUREEN WRIGHT AND LANE BROWN
ANONYMOUS
MARYANN YELNOSKY
---
ONLINE: Donate instantly and securely.
BY PHONE: Call us at 503.242.0080, Tu-Fr 12-4pm
BY CHECK: Make checks out to Profile Theatre and mail to: Profile Theatre, P.O. Box 14845, Portland OR, 97293
MONTHLY: Set up monthly recurring donations to spread your gift out over the year.
STOCK, CORPORATE or LEGACY: Contact us at info@profiletheatre.org.
VOLUNTEER: We are currently recruiting volunteer ushers. Contact Nel Taylor at nel@profiletheatre.org for more information.
---
PRODUCERS CIRCLE
Turn your passion for an exciting season or production into a gift of significant impact by joining our Producers Circle. If you love what you see on stage, believe in supporting local artists and are committed to a diversity of stories and perspectives – the Producer's chair is for you! Contact Artistic Director Josh Hecht.
---
OTHER WAYS TO GIVE
Make a gift of stock
To donate stock, please contact the following broker and give us notice in advance of the transfer.

Brokerage: Cetera Investment Services
Broker: Jennifer Brandt, jennifer.brandt@ceterais.com , 253-305-1533
Account Name: Profile Theatre Project
Account Number: 2AZ18378
DTC #: 0701
Gift a contribution
Make a donation on behalf of someone special in your life. HERE
Employer Matching Gift
Does your company have a matching gifts program? Tell them you want your match to go to supporting great theatre and community engagement!
Support Profile while you shop with smile.amazon.com and Fred Meyer Community Rewards
---
LEAVE A LEGACY
Ensure that your sustaining contributions continue for years to come by honoring us with a legacy gift.
---
JOIN OUR BOARD OF DIRECTORS
Lead the way forward to ensure we have adequate resources to advance our unique mission. Leverage your worldly expertise to guide our work into your community. Inquire HERE
---
CONTACT
info@profiletheatre.org 503.242.0080
Thank you for your support!
Mail checks to:
Profile Theatre
PO Box 14845
Portland, OR 97293
---
Profile Theatre is a recognized not-for-profit organization under section 501(c)3 of the Internal Revenue Service.
TAX ID: 91-1786694