CP – 1st Gen Americans & Arriving Communities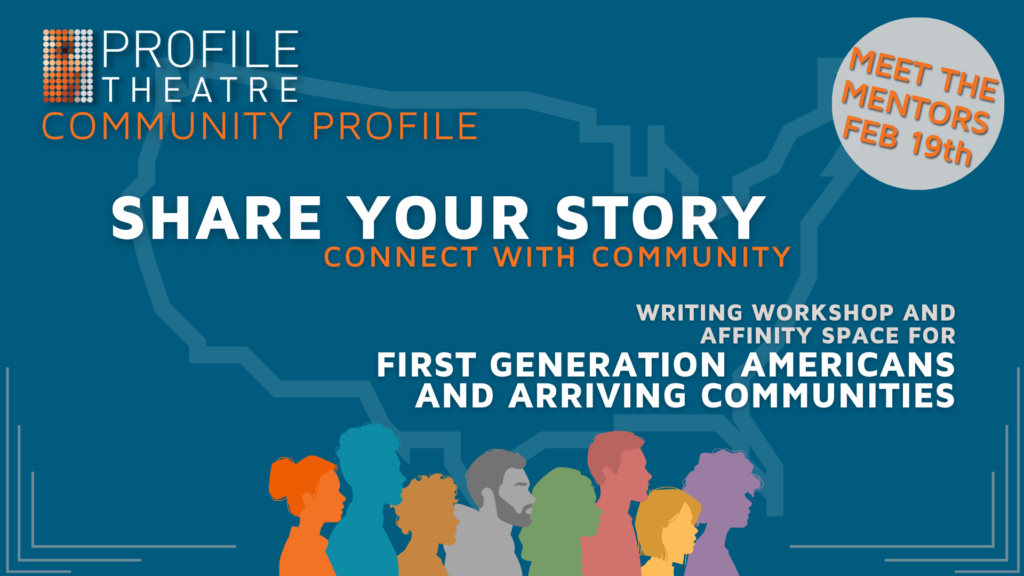 You're Invited to Share Your Story with Community Profile!
Our cohort for winter/spring 2023 is for First Generation Americans and Arriving Communities. If you are within that demographic or know a friend or a family member who is, send them our way. We can promise an experience of enlightenment and fellowship, creativity and support. By the end, you (or they) will have a different perspective on your art, your world and yourself within that world. And you'll have an entire new community of writers, friends and allies.
---
WRITERS YOU'LL WORK WITH
---
This season, Profile explores the work of three dynamic playwrights whose work reflects the complexity of life in the US as children of immigrants: Kristoffer Diaz, christopher oscar peña, and Lauren Yee. Our Community Profile program is designed to serve and engage with the local communities whose experiences are reflected in the themes and experiences our playwrights write about.
Profile Theatre's Community Profile program invites members of Portland and surrounding areas to join a community cohort exclusively for first and second generation US residents. We create an affinity space centered around monthly writing workshops with award winning writers and exceptional teachers, where writers with any level of experience are encouraged to tell their stories.
At Community Profile we believe that coming together to share these stories with others with similar life experiences has the potential to spark inspiration, foster connection, ease feelings of isolation and loneliness, and strengthen a sense of belonging.
The details:
Participation is completely free.
Five 3-hour workshops between February 25th (first session) and June 10th (final session).
Sessions are always offered BOTH in-person and streamed.
All necessary materials are provided (mainly notebooks/pens, plus lunch, coffee/tea/water/soft drinks)
There is no obligation to attend every workshop – participants attend as many or few workshops and events as they like.
Participation includes complimentary tickets to all Profile productions, meet-and-greet opportunities with visiting playwrights, and other special events.
If you or someone you know would enjoy and benefit from participating in this exciting program, please contact Tamara Carroll, Profile Theatre's Director of Community Engagement, at tamara@ProfileTheatre.org or at 503-242-0080.
---
PROGRAM DATES
Feb 19 – Meet the Mentors
Feb 25 – Writing Session 1 with Alvaro Saar Rios
March 18 – Writing Session 2
April 15 – Writing Session 3
May 20 – Writing Session 4 with Megan Tabaque
June 10 – Writing Session 5 with christopher Oscar peña AND Opening Night of How to Make An American Son