Episode 12: Greg Berman: All The Animals of the Kingdom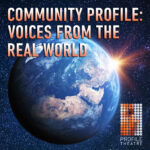 "Much of Greg Berman's writing centers around mental health because that is the field in which he has spent much of his life. Today, Greg is a professional psychiatrist who also brings his life experience and insight to the page with intelligence, courage and vivacity." -Bobby Bermea

ARTIST BIO
Greg Berman received his MFA in dramatic writing at Lesley University. He is a
private practice psychiatrist in Portland, Oregon and is interested in the
intersection of creativity and mental health. His ten-minute play Hope and
Change appeared in Being Human a Playwright Showcase, by Scribe Stages at
Moving Arts Theater in Los Angeles, CA, November, 2017. His play Bartow
was inspired by the art of Rick Bartow and his ability to make art after a stroke, it received a reading in the Dramatists Guild footlight series last summer.