Well & Let Me Down Easy

In Rotating Repertory
At the Portland Playhouse
---

By Lisa Kron
May 9th – June 15th, 2019
In the opening moments of this Tony-nominated Best Play on Broadway, Lisa Kron assures us this play is not about her mother and her. But, of course, it is about her mother, and her mother's extraordinary ability to heal a changing neighborhood, despite her inability to heal herself. In this self-professed solo show with people in it, Kron asks the provocative question: Do we create our own illness? The answers she gets are much more complicated than she bargained for as the play spins dangerously out of control into riotously funny and unexpected territory.
Click here for an ASL interpreted description.
"Kron has written many excellent plays, some autobiographical. But none touched me like this one." -Judy Nedry (Read the review!)
"Vana O'Brien gives a warm, funny, absolutely winning performance." -Oregon ArtsWatch (Read the review!)
"WELL is one of the most interesting plays I've seen in a long time." -Broadway World (Read the review!)
"The play delights in raising disquieting uncertainties that transform the narrative into an entertainingly nasty satire of Kron's own ambitions—and asks the cast and director Josh Hecht to navigate some fantastically jarring twists (spoiler alert: They succeed with grace and gusto)." -Willamette Weekly (Read the review!)
Watch the slideshow: 

By Anna Deavere Smith
May 16th – June 16th, 2019
In this theater piece constructed from verbatim interview transcripts, Anna Deavere Smith examines the miracle of human resilience through the lens of the national debate on health care. Drawn from in-person interviews, Smith creates an indelible gallery of 20 individuals, known and unknown—from a rodeo bull rider and a World Heavyweight boxing champion to a New Orleans doctor during Hurricane Katrina, as well as former Texas Governor Ann Richards, cyclist Lance Armstrong, film critic Joel Siegel, and supermodel Lauren Hutton. A work of emotional brilliance and political substance from one of the treasures of the American theater. Originally created as a one-person show, the Profile Theatre production will feature the same six-person cast performing Lisa Kron's Well.
Click here for an ASL interpreted description.
"Profile Theatre presented three of Smith's pieces this year, and I count the two of them that I saw among the best shows of the season — not just Profile's season, but the whole Portland season." -Broadway World (Read the review!)
"Breaking down what once was a solo show into several parts works well, providing varying voices to the show's multiple characters, and much of the pleasure comes from watching a good cast shift so precisely and easily from voice to voice." -Oregon ArtsWatch (Read the review!)
"Solid, meaty morsels of dialog, directed by Profile artistic director Josh Hecht, move the play forward at a brisk pace." -Judy Nedry (Read the review!)
2 Dynamic Stories. 1 Ensemble of Actors.
See Both!
Profile Theatre Box Office: 503-242-0080, Tuesday-Friday, 12:00-4:00 pm
7:30 pm
2:00 pm matinees on Sundays
Performing at Portland Playhouse, 602 NE Prescott St., Portland OR 97211 Directions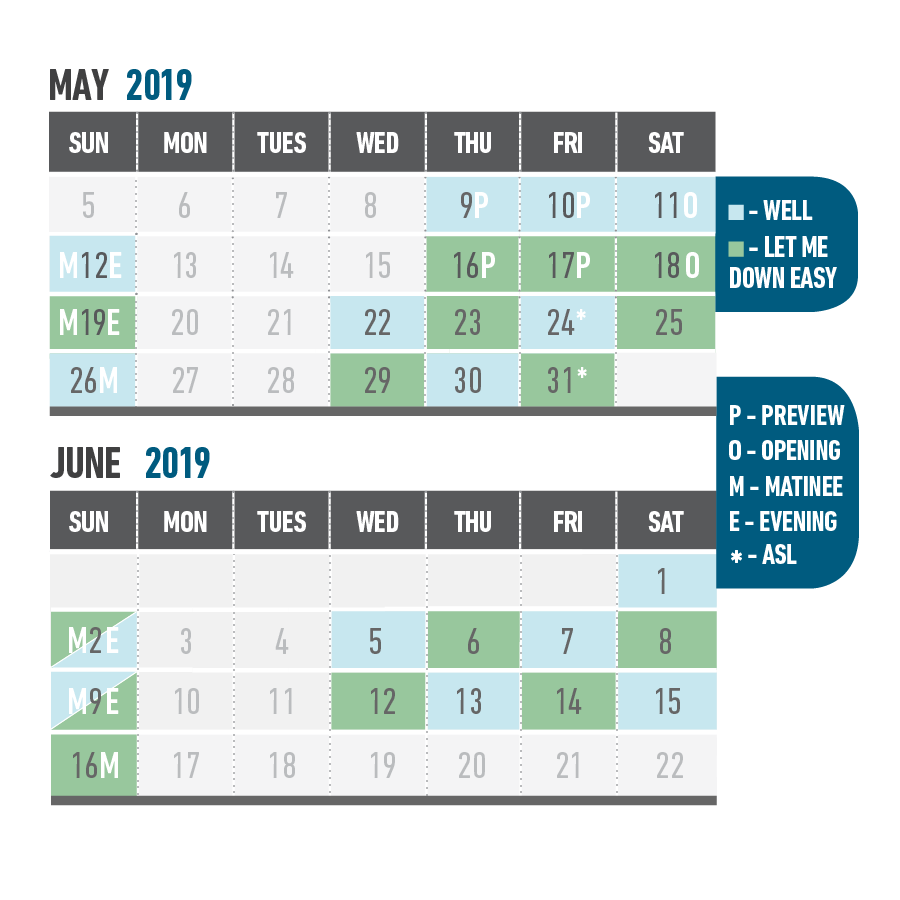 ---
CAST

CREATIVE
Daniel Meeker, Scenic and Lighting Designer
Matt Wiens, Sound Designer
Sarah Gahagan & Alex Pletcher, Costume Designers
Kyra Sanford, Properties Master
Karen M. Hill, Stage Manager
Breydon Little, Assistant Stage Manager
Jamie M Rea, Line Producer