Twilight: Los Angeles, 1992
By Anna Deavere Smith
Directed by Josh Hecht
A Concert Staging
April 15th, 16th & 17th 7:30pm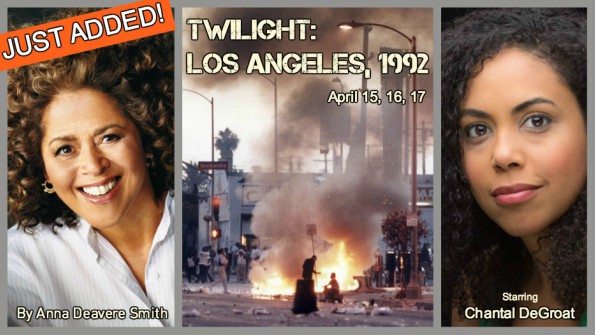 Announcing an exciting addition to our season!
In April we will bring you Anna Deavere Smith's riveting work that chronicles the events surrounding the riots that erupted in Los Angeles in April of 1992.  Commonly known as the "Rodney King" riots, unrest broke out after a trial jury acquitted four officers of the Los Angeles Police Department for use of excessive force in the arrest and beating of Rodney King, which had been videotaped and widely viewed in TV broadcasts.
Created by Smith's signature and pioneering docu-theatre form, which replicates real people she personally interviewed, the play compiles first-hand accounts of events to give a 360° perspective on the cause, course, and effect.This show captivated audiences when it premiered on Broadway in 1994.
This stripped-down Concert Staging will be a fully-rehearsed, book-in-hand presentation designed to place the focus on the actor and the words. An intimate theatrical experience you won't want to miss. 

 Directed by Artistic Director Josh Hecht, starring Chantal DeGroat.
April 15th, 16th & 17th 7:30pm 
Alder Stage at Artists Rep
$15 Subscribers  /  $18 General  /  $10 Student/under 30
Tickets now on sale to subscribers only.  (Hint, hint, subscribe!)
Subscribers: Please call the office to reserve your tickets.  
BOX OFFICE: 503.242.0080, Tuesday-Friday, noon-4:00 pm
Tickets on sale to the general public week of March 19th!