Community Council

From the Community Council for 26 Miles.
Excerpt from blog post The Staggering Resilience of Teenage Girls:
Good theatre should always leave you feeling like you've watched these characters be permanently transformed by whatever moments of their life you observe onstage, and this play definitely accomplishes that.  I'm excited to see more of the journey as it moves forward to production, and to reflect on how it lands after the second, third, fourth viewing.  But for now, what I'm taking away – and what I hope anyone reading this takes away too – is to be thoughtful and intentional about the way we communicate to, and about, girls and young women.  When we make jokes about their pop music and their selfies and their eyeliner, they're hearing us tell them they aren't worth taking seriously.  But they are.  They so deeply, truly are.  They deserve to be heard, and seen.
(Read the full blog post here.)
-Claire Willett
I attended a rehearsal of 26 Miles by Quiara Alegria Hudes presented by Profile Theatre. It was so refreshing to watch the actors work their scene, review their character's lives, work through the social constructs their characters live in, and then see the actors make new choices for their characters, discover new things, take risks. I kid you not, I felt like I was in a Narrative Therapy session. The director was like the therapist working closely with the client helping them uncover/discover/reveal their emotional lives beneath the surface to make new bold creative choices. I'm in love with Profile Theatre! Thank you for making loud, proud choices and presenting relevant work during these trying times. Blessed be!
-Joaquin Lopez
Admittedly, when I was approached with an invitation to join Profile Theatre's Community Council for their current  show, 26 Miles, I proceeded with immense caution. In the past I've found these sort of invitations to be disingenuous or these experiences unwelcoming and tokenizing to an ambitious and assertive  woman of color actor such as myself. Typically in these spaces, I'm overwhelmingly surrounded by older, whiter, wealthier, more well-educated folks than myself. The end result is not the engaged and inspired one that was likely dreamed up, but one of deep resentment at being a politely checked off box of a diversity effort. It's an appeasement of a trend towards "equity" while still keeping art, creative work, and most importantly theatre elevated and accessible mostly to those who identify with whiteness.
When I walked through the door of the rehearsal room at the first read through I was unsurprised to again find myself adrift amidst by the typical theatre patrons: affluent white folks over the age of fifty who come looking to be entertained. I took a deep breath and continued forward into the room, determined to follow through with my commitment to the Community Council. I found a seat, selected some snacks, and began to observe.
Here's what I noticed that was different from my past experiences: There were two folks animatedly speaking in Spanish to one another. These two people turned out to be two of the actors in the cast. I was struck by the authenticity of their identity– real people cast in real roles that feel as though they're truly written for them. While this may not seem notable, as an actor and woman of color, there a precious few strong, beautiful, authentic, and inspiring roles written with us in mind. Here, Profile Theatre has found a treasure  in the work of Quiara Alegría Hudes. In addition to doing a spectacular job in casting, they've also selected a director who clearly loves the play and feels some deep connection to the work as a part of the Latinx community herself. I can honestly say that Profile has a new fan.
The play itself is stunning. There were so many moments in which I felt that the anger, pain, confusion, disgust, and hope that Olivia experiences are a mirror of my own childhood. I too grew up a mixed-race child, raised by one side of my family and always feeling like I didn't know or understand half of my own heritage– for me, raised by my Japanese family and devoid of my Mexican ancestry. I too angrily and clumsily sought to uncover the missing pieces of my identity without realizing that's what I was doing. I too enveloped myself in creative pursuits, chased excellence, and clung to an obsessive dream of escaping someplace and seeing some distant creature (for me, it was wolves and not buffalo.) I too know how all-consuming humiliation and non-acceptance from peers can feel, and how it can make irrational and self-destructive actions feel like the only reasonable option.  I too didn't appreciate or understand how deeply my mother loves me, how forgivably human she is, and how much we truly need one another to grow past our own pain into whole people.
The initial read through was memorable, the second rehearsal I attended was thoughtful, delightful, and deliberate. I look forward to seeing the staged production next week, where I'm sure it will be nothing short of breathtaking, heartbreaking, and immensely healing for someone like me: a young woman on a lifelong journey of fitting together the halves of my own identity.
– Melissa Magaña
When I first read 26 Miles, I was surprised to find myself in the character of 15-year-old Olivia. Like Olivia, my parents were divorced and I never experienced any of the culture of my Mother's Colombian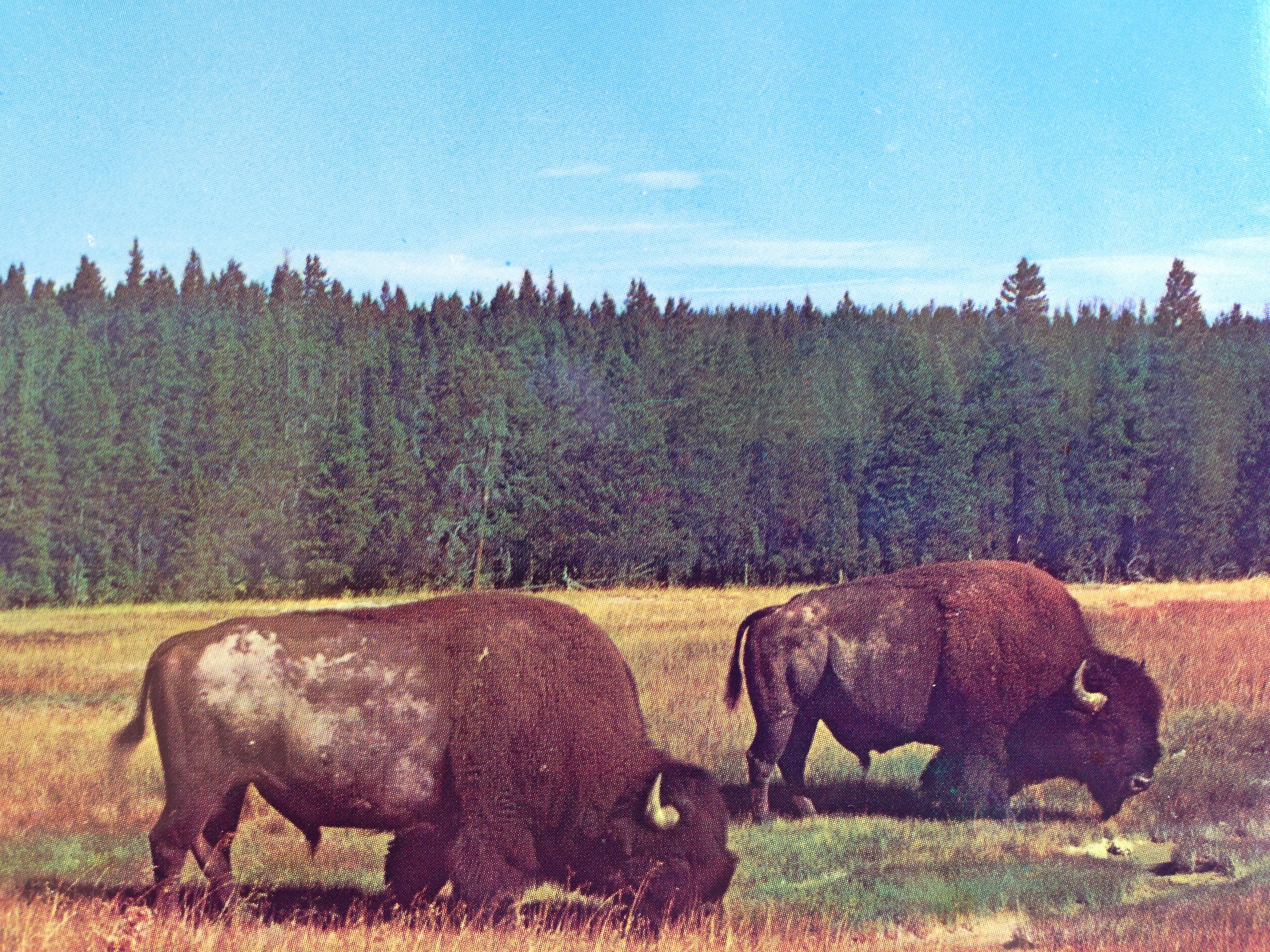 side of the family. She was a "Spanish Beauty" in her day and I "don't even tan right," as Olivia quips to her Mom. Like Olivia, I was a writer with an obsession for buffalo and Yellowstone Park. Yup, odd as it seems, buffalo enthralled me and the majestic view of Yellowstone's Hayden Meadow, with hundreds of the magnificent beasts entranced me. I desperately wanted a little stuffed animal buffalo I found in the gift shop, but I didn't have enough money and I felt a little childish desiring a toy at age 10, so I bought this post card.
Invited to a rehearsal for Profile Theatre's production, I walked in expecting to find myself on-stage in Olivia. But memory and nostalgia butted heads with reality and the present, and now that I am the mother of a teenaged daughter, I found myself relating to the mother character. Beatriz and I have little in common except the shared experience of loving your daughter so much that her pain cuts you so deeply, you can't breathe. And when someone teases and hurts your child, the anger is so hot, you can't see.  Despite this astounding love, mothers make mistakes. We need our children's forgiveness just as much as they need our acceptance.
-Diane Englert, Executive Director of Staged!
When I first heard this play I was grappling for a timeline. A direction. The second time I heard the play, it was like driving home. I knew where we were headed and I could get lost in the gush of the wind…Being on Profile's Community Council has allowed me the incredible opportunity to practice watching theatre…this is what I wish most for my peers: the opportunity to practice. To appreciate the levels of creation in theatre one must practice.
-Margaret McKay

From the Community Council for Elliot, A Soldier's Fugue.
Last week, I got to eavesdrop on rehearsals for Quiara Alegría Hudes' Elliot, A Soldier's Fugue at Profile Theatre in Portland, and I was so pleasantly jolted back home listening to the actors and directors negotiate Spanglish, Spanglish accents, Spanglish music and Spanglish family matters, all in service to such a sharp script. The play reads to me like a critique of the US war machine and its exploitation of brown people, an amazing and kind of ruthless tribute to Rican dads, and one of the kindest provocations to Latino masculinity I've seen. I'm looking forward to the final production—the first in a trilogy Profile is producing throughout the year, including Water by the Spoonful, which is my favorite. Go see.
-Roy Pérez

I attended the last dress rehearsal of Elliot, A Soldier's Fugue, which was a full run-through without pause. In sitting in a theatre in which you are the only person not connected to the production, you notice so many things you might not normally think of, such as the difference the absence of an audience makes, especially when, for example, a funny line is spoken. Getting to look behind the scenes makes crystal clear how much theatre is a collaborative endeavor with hundreds of small parts coming together to make an amazing whole.
-Pancho Savery
When I came in to speak to the cast of this amazing play (Pulitzer Prize finalist!), they were so welcoming and eager to hear about my story as a Purple Heart recipient with multiple tours. We all sat in a small room, with more people than chairs, and I told my story. I described the depression, rage, and guilt that comes with surviving a coordinated ambush in combat and then being sent home to attempt a transition back into the civilian life. They created an atmosphere safe enough for me to tell them some of my most vulnerable stories including past thoughts of suicide and acts of self destruction. Afterwards, they asked questions for a while. Some about their characters, other about my life, but also some questions about veterans in general. These last questions, I noticed, were changing their views on how they pictured veterans. At the end I must have hugged each one of them before leaving.
-Sean Davis Military Advisor for Elliot, A Soldier's Fugue and Profile Community Council