J. Julian Christopher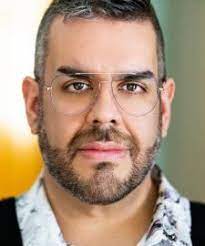 C. Julian Jiménez (a.k.a. J. Julian Christopher) is a Queer, Puerto Rican and Dominican playwright. He holds an MFA in Acting from The New School for Drama. Playwriting awards include: New Dramatist Residency (Class of 2025), 2019/2020 Rita Goldberg Playwrights' Workshop Fellow at The Lark, 2017 & 2018 Pipeline Theatre Company PlayLab, 2018 LaGuardia Community College's LGBTQ History Project Grant, 2015 Queens Arts Council Grant, 2009 Public Theater Emerging Writers Group, and 2014 Best New Work Motif Award.
Productions include: Man Boobs (Pride Films & Plays, 2011), Nico was a Fashion Model (Counter-Productions, 2013), Animals Commit Suicide (First Floor Theater, 2015), Locusts Have No King (INTAR, 2016), Bundle of Sticks (INTAR, 2020), and Alligator Mouth, Tadpole Ass (Theatre Rhinoceros, 2020). He wrote the book for LatinXoxo at Joe's Pub in 2019. Other plays include anOTHER, ¡OSO FABULOSO! & The Bear Backs, Julio Down by the Schoolyard, and Bruise & Thorn (2018 PlayPenn Conference). He is a co-producer and co-writer of the hit web series, Bulk, and an Associate Professor of Theatre at Queensborough Community College.