The Oregonian Features Quiara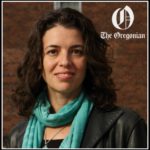 In October Quiara Alegría Hudes was interviewed by Lee Williams for The Oregonian/Oregon Live!  We are thrilled that The Oregonian recognized the significance of presenting the work of a Pulitzer Prize winning writer – and her upcoming visit to Portland.
She spoke of her gratitude for people's response to the devastation of hurricane Irma, saying "It's really profoundly moving how much the nation has just come out with deep love for Puerto Rico."
She also praised Profile saying that we've impressed her with our "Level of thoughtfulness and creativity and care toward the work they do." Thanks Quiara!
The full article was published in print on Friday, Oct 27th and is available online!