INDECENT DIRECTOR'S NOTE
At its heart, INDECENT is about the power of telling our own stories and the transformative dignity of having those stories seen and valued

Josh Hecht, Director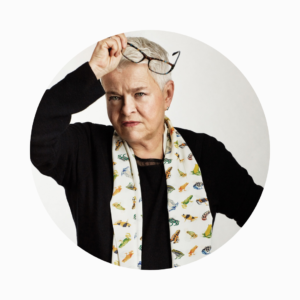 When we started conceiving this production of INDECENT, I was about to go into rehearsals for THE BALTIMORE WALTZ, an early work by Paula Vogel written in the months just after her brother Carl died of AIDS and in which she imagines the trip to Europe she never got to take with him. It is a comedic work nonetheless suffused with loss, and the familiar ache that lies beneath our favorite memories of loved ones gone. No one quite marries humor and sadness like Paula Vogel. It is a hallmark of her work.

One of the pleasures of being the Artistic Director of Profile Theatre is our unique ability to get to know intimately an artist's body of work and to start to draw connections between those works. Like putting on the glasses of a dear friend or family member and seeing the world through their eyes. When I had lunch with Paula over the summer, I mentioned the similarities I had noticed between THE BALTIMORE WALTZ and INDECENT, from its adventurous form to the stunning final moment that dreams into being a healing embrace from the beyond. She smiled at me and said, "They're book-ends. No one's noticed that before."

THE BALTIMORE WALTZ begins and ends in Carl Vogel's hospital room, and though in between Vogel's play takes us on a journey across continents and time, in one sense we never really leave the hospital in which it begins. As we started working, set designer Peter Ksander and I began to wonder what would happen if the dusty attic in which INDECENT begins never wholly leaves us either.

INDECENT is told through the eyes of a theatre troupe who have performed Scholem Asch's THE GOD OF VENGEANCE for years in Jewish communities throughout Europe and in America. So moved are they by Asch's story of love found in this obscenity of a world, that even during the horrors of the holocaust, they gather in secret in a cramped attic in the Warsaw ghetto to perform this play every week.

Our need to tell our own stories is one of the most ancient needs we have. Recently, a board member of ours went to France, where he visited the caves in which Neanderthals painted images of their lived experience 64,000 years ago. Before humankind had fully emerged as a distinct species, the urge towards creative expression was strong. And though we may not have had stages like Lincoln Hall and large producing organizations like Artists Rep or Profile, there has always been someone who stood up and told a story to someone else who listened. For it's not just the telling that is important. It's the witnessing. It's the confirmation that comes from speaking our truths and having someone else say, "Yes, that's me, too. Yes, I recognize that. We may be different, but in this way we are the same." It's why, in ancient Greece, the entire city-state would gather on the eve of battle to watch plays together, to listen and be seen, and to have their place in the universe, their belonging, confirmed.

This is why it's so important to present a diversity of stories and lives on the stage. Because this need to tell our own stories, to have them witnessed and valued, and to feel our place in this world is an essential need. And if we believe that the theatre can be, in the words of Anna Deavere Smith, a convening ground, a place where communities come together to practice seeing ourselves in each other's stories, a place to exchange ideas and expand our souls, then we must make space in our theaters for many to be seen and known. It is one of the ways we fold many threads into the American tapestry we live in.

At its heart, INDECENT is about the power of telling our own stories and the transformative dignity of having those stories seen and valued — a feeling so strong, this troupe will risk everything for it, even their very lives. The attic in which their fate was sealed is, for me, a reminder of how delicate our lives and culture are. 75 years ago, more than a third of the world's Jewish population were destroyed. What if we were not here to witness this story, told by ghosts in an attic whose whereabouts have been long-forgotten? Very few write stories in Yiddish anymore, as Paula writes in INDECENT. And yet, these stories are an essential desiderata, rising from the ashes to claim their space in the world night after night, asking us to witness, to take them into our hearts, and to be transformed.