Community Profile: Our City's Veterans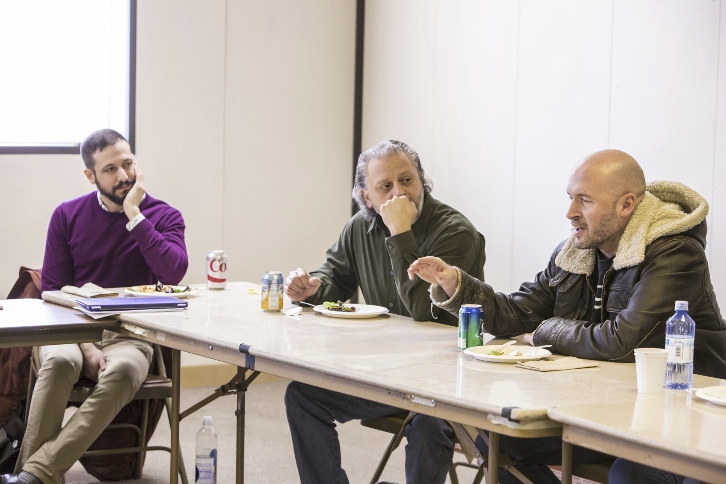 On Monday, November 13th we celebrated the end of this year-long program!  The emotional evening was a public performance of the veterans' writing staged with professional actors on the Alder Stage.  
This reading was presented in conjunction with our rotating repertory production of Water By The Spoonful and The Happiest Song Plays Last, the final two plays in a trilogy of work centered around Elliot Ortiz, a veteran of the Iraq war.
From Artistic Director Josh Hecht
One of the things that most attracted me to Profile Theatre when I applied for the job of Artistic Director last year is the company's long-standing commitment to real community engagement. My desire to lead a theater company stems from my belief that, at its best, theater can help us have conversations we might not otherwise have. A theater that was already putting significant human capital and programming resources into community dialogue felt like the right home for me.
One of my biggest priorities as I start my new tenure at the helm of Profile is continuing to broaden the communities we reach and serve, and continuing to deepen the two-way engagement with our city.
At the center of our 2017 Quiara Alegria Hudes season we will present all three plays in Hudes' "Elliot" Trilogy: Elliot, A Soldier's Fugue, Pulitzer Prize-winner Water By The Spoonful, and The Happiest Song Plays Last. The first follows three generations of a Puerto Rican-American family, all of whom have served in the US Armed Forces – the grandfather in Korea, the Father and mother in Vietnam, and Elliot who serves two tours in Iraq. The two subsequent plays follow Elliot's re-introduction into civilian life and his struggle to find his place in the world.
What better an opportunity to engage with our own veterans community. There are currently nearly 22 million American combat vets, 2.5 million from the current engagements in the Middle East alone. Profile has created a one-of-a-kind collaboration with the Writers Guild Initiative, the professional trade organization of screenwriters and playwrights, to bring award-winning writers from across the country to Portland. Here they will work with local veterans and their families, mentoring them in a writing practice designed to help them reflect upon and share their experiences through the written word. We've also partnered with the American Legion Post 134 in NE Portland, various Veterans Resource Centers at colleges in the area, and the Wounded Warrior Project's regional base in Seattle to identify local participants in these workshops.
The group gathered in February for two days of intensive writing workshops. They also saw our production of Elliot, A Soldier's Fugue. Throughout the year, we continued to meet one Saturday afternoon a month to create community, share work and continue our practice. Finally, in November, selections of their writing were presented with professional actors and director on Profile's stage alongside our repertory productions of Water By The Spoonful and The Happiest Song Plays Last.
Our goal is manifold: To use the theater as a site of community-formation. To think of the theater, not just as an institution that can start conversations, but as a place the community goes to have those conversations. But also, to provide a place where various communities can see their own lives reflected back to them on the stage, so that we might know ourselves and each other as necessary parts of this great American tapestry.
If you are interested in learning more about our veterans' collaborations this year, please don't hesitate to drop me a line. I hope to see you at the theater.
Save