Big Changes Coming to Profile Theatre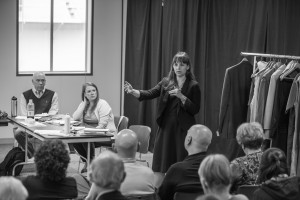 Artistic Director Adriana Baer will be departing Profile at the close of 2015.
"It has been an honor to serve Portland and its theatre community as Artistic Director of Profile, and to transition and grow this company to where it is now. Celebrating Profile's featured writers with you has been a highlight of my tenure. Profile is on very strong footing and I have great confidence in where it is heading next. While being an administrative leader has been fulfilling in many ways, I am excited to return my focus to the rehearsal room and the classroom. I look forward to joining you as an audience member to applaud the beautiful work on Profile's stages," says Adriana.
All of us at Profile will greatly miss Adriana. She has been a visionary leader and gracefully navigated our theatre through challenging times. Since Adriana's arrival in 2012, Profile moved into our new home at Artists Rep, expanded our education programs and launched our In Dialogue series. Behind the scenes, Adriana and Managing Director Matthew Jones have been hard at work creating systems to ensure Profile's future success. Creating a multi-year strategic plan,  increasing the staff and nearly doubling the budget have put Profile on a secure foundation to move forward.
"Profile Theatre is truly unique – both in our community and nationally. I deeply believe in its mission and vision and in the wonderful staff and artists that work to bring the art to life," says Adriana. She will remain involved with Profile as a consultant, helping to establish the company's new play commissioning program.
A search committee has been formed and a national search has begun for our next Artistic Director.
An end-of-season open house is planned for December 14 to celebrate the significant work Adriana has accomplished with Profile. Stay tuned for more details!