An Inside Look at THE BALTIMORE WALTZ rehearsals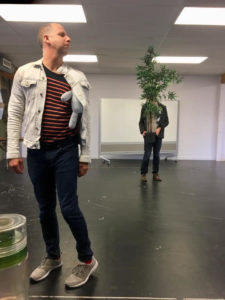 Comedy is serious business! We're a little more than half way through our rehearsal process, with one more week in the studio before moving onto the stage. THE BALTIMORE WALTZ is a play with 30 scenes in a quick 80 minutes. Actors Jen Rowe and Dan Kitrosser play bother and sister Carl and Anna on a European escapade after Anna receives a devastating and mysterious diagnosis. Actor Josh Weinsten plays everyone else — an American doctor, a French waiter, the Little Dutch Boy at Age 50, a Munich virgin, a radical student activist in Berlin, even Harry Lime, a character straight out of the classic noir film "The Third Man". The style is big, broad, even campy at times. And there's a noir strain that runs throughout and grows as the we move through the play.

The photo below is from a day we were rehearsing one of two scenes in which Carl and Anna could swear they're being followed by a man in a trench coat. Here he is hiding behind a bit of shrubbery. There he is on a park bench reading a newspaper. There he is again in a cafe behind an enormous French menu. And what are they doing with those stuffed bunny rabbits???

THE BALTIMORE WALTZ is a play filled with shtick. Lots of "bits" and what in Italian comedia are called "lazzis" — jokes that are built on physical comedy. Three weeks into rehearsal,with a week to go before previews, everything has its shape. All the bits have their architecture. Now comes the fun part — the precision work that will make it actually funny. This past weekend, for example, we returned to the bit pictured above, in which Anna and Carl are being followed, and discovered that it's funniest when the rhythm is precisely step-step-step-step-step, stop, pause, turn. 
And then, of course, the real task: living into all the shtick and the precision with emotional truth, so that the humor sits on top of a poignant story of sibling love and grief.

THE BALTIMORE WALTZ is an extraordinary play. I can't wait to share it with you.