Playwright Profile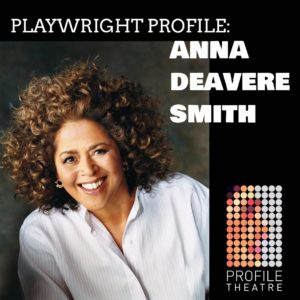 Anna Deavere Smith has had a wide and varied career. Most may know her as hospital administrator Gloria Akalaitis on seven seasons of "Nurse Jackie," National Security Advisor Nancy McNally on "The West Wing" or her current role on the new Shonda Rimes drama "For The People." But Smith's work as a dramatist goes back nearly thirty years and transformed the field.
Smith worked as an actor on stages across the country throughout the 1980s. While teaching at Stanford and at Princeton, she started a project she called On The Road: The Search for American Character. It was here that she honed what would become her signature style: in-depth, on-camera interviews with diverse subjects, which she would then excerpt into monologues that she performed verbatim, including every verbal tic and self-interruption, and every accompanying physical gesture. Smith calls these pieces her 'portrait galleries." "What I try to do is create a kind of document of what the person said, and the physical part follows," she has said.
The interviews themselves can take an hour or more — however long it takes for them to, in her words, "come into character. I'm watching for them to discover their own personal literature, their own poem. I think everyone has a poem."
In 1991, she began using this technique to document the Crown Heights riots and the communities that lived through them. FIRES IN THE MIRROR premiered at The Public Theatre in 1992 to rave reviews, notably from Frank Rich in the New York Times, an early champion of Smith's, who subsequently performed the piece in cities throughout the US and at the Royal Court in London.
Her follow-up piece, Twilight: Los Angeles 1992 turned her incisive lens on the Rodney King beating. That show transferred to Broadway, where Smith was nominated in both the Best Play and Best Actress categories.
Subsequent pieces have included House Arrest, about the tense relationship between the American presidency and the media, Let Me Down Easy, her exploration of the vulnerability and resiliency of the body through the lens of the national debate about healthcare (which we'll produce this spring at Portland Playhouse), and Notes From The Field, an exploration of the school-to-prison pipeline.
Her body of work is remarkable not only for its breadth of subject matter but for the complexity she is able to render simply by letting her subjects speak for themselves. More than any other dramatist, Smith holds a mirror up to our lives as Americans in all of our complicated, painful, joyous dignity.
-Josh Hecht, Artistic Director