Support Profile Theatre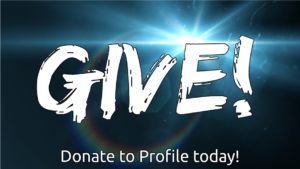 Our donors and patrons believe that art plays a fundamental role in making our city a place we want to call home.
Please join them in contributing to Profile Theatre if:
You are moved by our award-winning playwrights
You think our 100% free work with those living with chronic illness, their families and caregivers is important and necessary
You find our In Dialogue offerings and community conversations educational
Together we are building a home for a diverse talent pool of local artists, a passionate community of patrons and, at the heart of it all, award-winning playwrights that transform our perception of the world!
You make this work happen by participating, subscribing and contributing!  
THANK YOU!
WAYS TO GIVE:
ONLINE: Donate instantly and securely by following the link above.
BY PHONE: Please call the box office at 503.242.0080, Tu-Fr noon-4pm
STOCK, CORPORATE or LEGACY: Email aiyana@profiletheatre.org or call the box office for more info.
BY CHECK: Make checks out to Profile Theatre and mail to Profile Theatre, P.O.Box 14845, Portland OR, 97293
---
SUSTAIN


Join Family Circles
With an annual gift of $100+ you are welcomed into our Family Circle.  Gain access to the intimacy of the playmaking process, build fellowship with other passionate patrons and discover the impact your contribution has on our community.  See full details on levels and events HERE
Set up recurring contributions that will provide Profile with a stable base of support throughout the season!  HERE
---
PRODUCE
Turn your passion for an exciting season or production into a gift of significant impact by joining our Producers Circle.  If you love what you see on stage, believe in supporting local artists and are committed to a diversity of stories and perspectives – the producers chair is for you!  Contact Artistic Director Josh Hecht.
---
OTHER WAYS TO GIVE
Make a gift of stock
Prefer to make you contribution in stock?  No problem! Contact Aiyana Cunningham for transfer details.
Gift a contribution
Make a donation on behalf of someone special in your life.  HERE
Employer Matching Gift
Does your company have a matching gifts program? Tell them you want your match to go to supporting great theatre and community engagement!
Support Profile while you shop with smile.amazon.com  and  Fred Meyer Community Rewards     
---
LEAVE A LEGACY
Ensure that your sustaining contributions continue for years to come by honoring us with a legacy gift.
---
JOIN OUR BOARD OF DIRECTORS
Lead the way forward to ensure we have adequate resources to advance our unique mission.  Leverage your worldly expertise to guide our work into your community.
---
JOIN THE PROFILE THEATRE GUILD
Serve as a Profile Theatre ambassador with our committed core of sustaining volunteers.  Help our theater thrive by encouraging greater community participation and support.
---
WE'RE READY FOR YOU!
All giving inquiries may be directed to
Aiyana Cunningham – Director of Donor and Patron Relations
aiyana@profiletheatre.org   503.242.0080
Thank you for your support!
To donate by mail: PO Box 14845 / Portland, OR 97218
Profile Theatre is a recognized not-for-profit organization under section
501(c)3 of the Internal Revenue Service.
Save
Save
Save