2014: Sam Shepard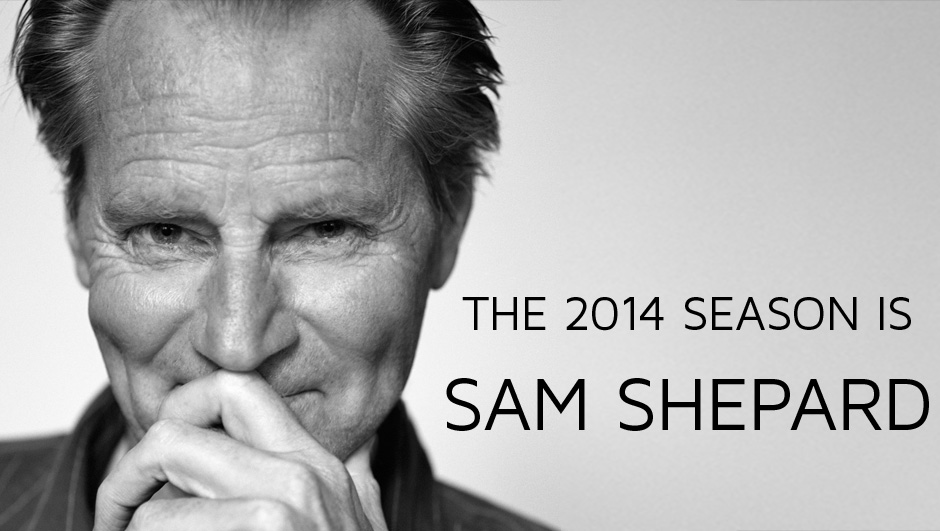 Sam Shepard has a uniquely American voice.  Rural, rough, poetic, violent, and musical. His plays are distinctly of the West, rooted in dreams and longings we all recognize – for family, home, and self-understanding – but moving to their own rhythm. Shepard captures what it feels like to be an American – the good, bad, ugly, and profoundly beautiful.
We are honored to be able to commit an entire season to one of the most important writers of our time.  Shepard's work is uniquely balanced between the sacred and the profane and though sometimes absurd, each play is filled with emotional truth, working the heart as well as the psyche.
We have not yet announced which plays will be presented in our Shepard season, but we will present three Main Stage productions and a number of supplemental programs (readings, lectures, and events) as part of our new In Dialogue Series.  We will announce the full season line up soon – stay tuned!  Because of our move to Artists Rep, we are overhauling our ticketing system.  Subscriptions and single tickets will be available in the fall.
Sam Shepard was born in 1943 in Fort Sheridan, Illinois.  He worked as a farmhand and musician before moving to New York to begin his career as a playwright.  His first productions, one-acts Cowboys and The Rock Garden, were performed at St. Mark's Church-in-the-Bowery.  His first full-length play, La Turista, was performed at the American Place Theatre and won an Obie Award in 1967.  Mr. Shepard spent several seasons with La Mama and Caffe Cino in New York and as playwright-in-residence at the Magic Theatre in San Francisco.  In 1979, he was awarded the Pulitzer Prize for Drama for Buried Child.  His screenplay for Paris, Texas won the Golden Palm Award at the 1984 Cannes Film Festival. In 1986, he was elected to the American Academy of Arts and Letters, and in 1992 he received their Gold Medal for Drama. Mr. Shepard is also a director and film actor.
---
Cowboys (1964) The Rock Garden (1964) Up To Thursday (1964) Dog (1965) Chicago (1965) 4-H Club (1965) Icarus's Mother (1965) Rocking Chair (1965) Fourteen Hundred Thousand (1965) Red Cross (1966) Melodrama Play (1967) La Turista (1967) Cowboys #2 (1967) Forensic and the Navigators (1967) The Unseen Hand (1969) The Holy Ghostly (1969) Operation Sidewinder (1970) Shaved Splits (1970) Mad Dog Blues (1971) Back Bog Beast Bait (1971) Cowboy Mouth (1971) The Tooth of Crime (1972) Nightwalk (1973) Blue Bitch (1973) Little Ocean (1974) Geography of a Horse Dreamer (1974) Action (1975) Killer's Head (1975) The Sad Lament of Pecos Bill on the Eve of Killing his Wife (1976) Angel City (1976) Suicide in B Flat (1976) Inacoma (1977) Curse of the Starving Class (1977) Buried Child (1978) Seduced (1978) Tongues (1978) Jacaranda (1979) Savage/Love (1979) True West (1980) Jackson's Dance (1980)  Superstitions (1981) Fool for Love (1983) A Lie of the Mind (1985) The War in Heaven (1987) Short Life of Trouble (1987) Hawk Moon (1989) States of Shock (1991) Simpatico (1994)  When the World was Green (a chef's fable) (1996)  Eyes for Consuela (1998) The Late Henry Moss (2000) The God of Hell (2004) Kicking a Dead Horse (2007) Ages of the Moon (2009) Evanescence, or Shakespeare in the Alley (2011)  Heartless (2012)  JOIN US.